McLaren 765LT is not just a souped-up 720S
McLaren Longtail is an iconic badge which basically means that the road-legal car you see is a track-monster underneath. Not that any McLaren isn't fast enough already, but then if you can make them go even faster, why not?
So, here is the latest McLaren Longtail, the 765 LT. Based on the 720S, the 765 gets its badge from, you guessed it right, the 765PS of power it now unleashes from that 4.0-litre twin-turbocharged M840T V8 petrol engine.
It features LT-specific forged aluminium pistons, a three-layer head gasket used in the McLaren Senna and carbon-coated followers in the valve train and the rather standard a flat-plane crankshaft and dry sump lubrication, together with ultra-low inertia twin-scroll turbochargers and electronically controlled waste-gates. Even the 7-speed sequential shift gearbox has been tuned for better acceleration - 0-100kmph in 2.8 seconds and 0-200kmph in 7.2 seconds.
And here is where it gets better. The McLaren 765LT's front ride height is reduced by 5mm and front track is 6mm wider and the extended front splitter and elongated active rear wing work with the carbon-fibre floor, unique door blades and the extended rear diffuser means it has better downforce and increased manoeuvrability. Which means, it will be even faster on the straight line as well as through corners.
The LT is 80kg lighter overall, weighing just 1,229kg dry. Almost 22kg of weight has been shaved off with the lightweight alloys, titanium bolts and Pirelli P Zero Trofeo R tyres. Ultra-light carbon-fibre has been employed to reduce the weight of the body-shell. Even the suspension setup has been reworked to save weight and add to the roll stiffness. The cabin has become more functional and has lost weight but still gets Alcantara upholstery.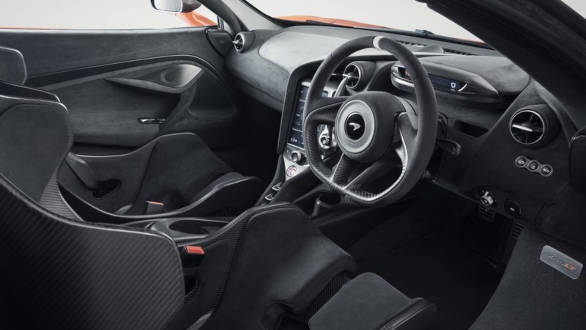 McLaren is going to build 765 examples of this engineering excellence and if you haven't heard of this yet, it is time to call your nearest McLaren dealer. Because, these cars sell faster than hot cakes even if it is priced closed to half a million dollars (approx. Rs 3.7 crores) before taxes.