McLaren 650S GT3 and MSO unveiled at Goodwood FOS
After replacing the four year-old MP4-12C with the 650S as its entry-level supercar, it was only natural for McLaren to bring out a GT3 racer based on the 650S. Not surprisingly, it has chosen the Goodwood Festival of Speed as a platform to unveil the new 650S GT3.
The McLaren 650S GT3 replaces the MP4-12C GT3
The 650S GT3 wears wider and more aerodynamic bodywork that not only improves performance, but also improves the cooling and thermal efficiency as compared to the MP4-12C. The upgrade also trades in the Ricardo gearbox for a new one from Xtrac.
The 650S GT3 addresses the reliability concerns that customers had with the MP4-12C and since it retains the monocoque and the 3.8-litre engine from the latter, the existing customers too can benefit from some of the upgrades.
The 650S GT3 is priced at £33,000 and McLaren intends to run 15 of these in the GT3-class races next season.
The MSO 650S takes design cues from the McLaren MSO 650S coupe concept
Alongside the 650S GT3, McLaren also showcased the MSO 650S at the Festival of Speed. MSO simply stands for McLaren Special Operations, which as the name suggests, develops special editions for McLaren Automotive. The MSO 650S takes design cues from the coupe concept of a similar name that was shown in China. Therefore it gets the bespoke splitter, diffuser, air intakes and side skirts from the concept. There are new diamond-patterned alloys that are four kilograms lighter than the standard rims. Interestingly, McLaren hasn't spoken of any changes to the drivetrain or vehicle performance.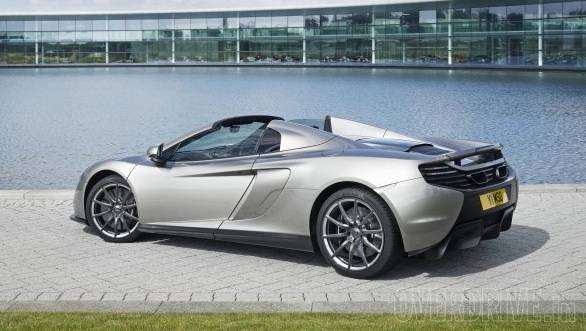 The diamond-patterned alloys are 4 kilograms lighter than the standard rims
The MSO 650S will be available in the Agrigan Black that was seen on the coupe concept, a Papaya Spark that is a newer interpretation of McLaren's favourite orange and a Sargian Quartz which is the grey colour seen in the photos here. The interiors are a combination of gloss black and satin surfaces and carbon-fibre and Alcantara trim. The MSO 650S also gets a plaque with McLaren Automotive design director, Frank Stephenson's signature emblazoned on it.
Plenty of carbon-fibre and Alcantara in there!
McLaren will build only 50 units of the MSO 650S, in both coupe and spider versions with prices starting at £252,500 and £272,500 respectively.