Maruti Suzuki strongly refutes Global NCAP ratings
In an interview with Latha Venkatesh and Sonia Shenoy of CNBC-TV18, Maruti Suzuki chairman RC Bhargava has come out strongly against the findings of the recent Global NCAP tests. The latest tests have given five Indian cars, including the Maruti Suzuki Celerio and Maruti Suzuki Eeco a zero-star safety rating.
Maruti's stand on the matter is that the Global NCAP standards are higher than what India or for that matter even what the USA prescribes. The government of India has set our crash test standards at the same 56kmph as the USA standards. However, the Global NCAP tests are carried out at a higher 64kmph. Bhargava says that the 64kmph test standard was not adopted in the USA as the higher standard doesn't work out to be cost effective in terms of overall market impact. A 56kmph crash test is supposed to simulate the effects of an accident happening at 112kmph which is over the prescribed national speed limit.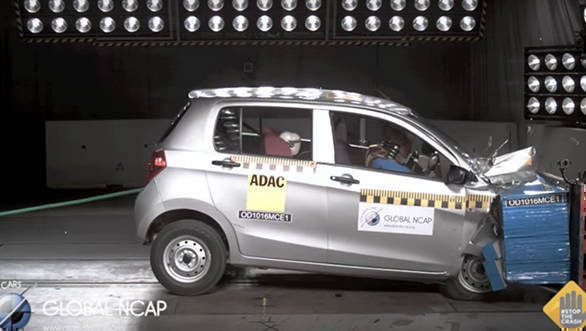 When asked whether Maruti Suzuki would be making any voluntary improvements to the crash safety of its cars, Bhargava said it is a matter of cost vs benefit. Simply adopting higher standards - even if they will not be enforced - is something 'you need to think about' says Bhargava. He further went on to say that exports should not be affected as no country mandates that their vehicles should conform to the Global NCAP norms.
We agree that a 64kmph crash test which simulates an accident at 128kmph will cause far more damage than a 56kmph test that simulates an accident at 112kmph. However, the question remains as to how these very same cars that scored zero star will fare in a standard 54kmph test. No one internationally has tested the five cars in question in these trims, and until the Indian government mandates these tests, we will never have a convincing answer. Until then, the Global NCAP results seem to the only yardstick we have as to which Indian spec cars are the safest.
Read the full interview at MoneyControl.
Price (Ex-Delhi)
Starts Rs 4.31 Lakhs
Price (Ex-Delhi)
Starts Rs 3.81 Lakhs