Maruti Suzuki rolls out Quick Response Team on bikes across 251 cities
Maruti Suzuki India Ltd has rolled out a new Quick Response Team (QRT) on bikes to ensure faster assistance to customers across India. The company has begun the initiative by deploying 350 motorcycles across 251 cities of the country. It aims to cover 500 cities under the QRT by 2020. The motorcycles come equipped with all the tools needed to handle 90 per cent of the problems faced by customers who seek roadside assistance (RSA), including jump starter, tyre inflator, and a toolbox. The service is available to Maruti Nexa and Maruti Arena customers around the clock. Customers can avail the service via the Maruti Care App, or calling the Maruti On-road Service helplines at 1800 102 1800 for Arena, and 1800 102 6392 for Nexa.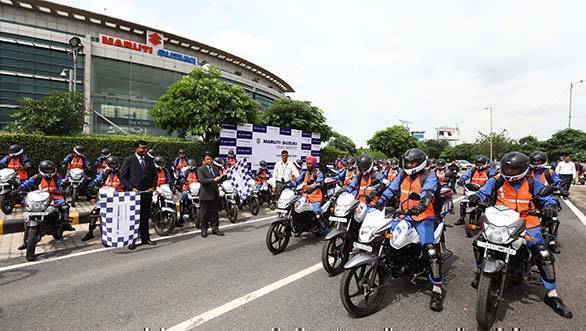 Below is the full press release from Maruti Suzuki India Ltd:
Maruti Suzuki India Limited today flagged off a unique 'Quick Response Team on Bikes' to offer faster on-road assistance for customers' cars.
A first-of-its-kind integrated initiative in India, the Quick Response Team (QRT) on Bikes has been rolled with a fleet of 350 bikes in over 251 cities in the first phase. The initiative will be progressively expanded to reach 500 cities by the end of 2020. Maruti Suzuki takes service quality to new heights with faster on-road assistance.
• Quick Response Team on Bikes to quickly reach customer's spot for assistance
• Real-time location sharing of the technician with customer
• Specially trained technicians; bikes equipped with essential tools for redressal of complaints
• Prepared with battery jump starter, tyre inflator, toolbox etc
• Equipped to cater to 90% of the problems faced by customers on-road
• Robust IT at back-end to ensure user-friendly and seamless operations
• Customers can avail the service through Maruti Care App or by dialing in the Maruti On road Service (MOS) toll free numbers: 1800 102 1800 (ARENA) and 1800 102 6392 (NEXA).
Launching the distinctive initiative, Mr Kenichi Ayukawa, Managing Director & CEO, Maruti Suzuki India, said, "Customer obsession being a core value of Maruti Suzuki, it drives us every time to come up with innovations to delight our customers. Started over two decades back, Maruti Suzuki is the pioneer of road side assistance programme in India. The launch of Quick Response Team on Bikes is a strategic decision to rapidly help attend customer cars that may have broken-down on the road. We are confident that this initiative will take Maruti Suzuki's service for customer care to the next level of convenience."
Each QRT biker will be equipped with essential tools and critical spares needed to quickly restore the vehicle in distress. Based on Maruti Suzuki's comprehensive training, the QRT technicians can handle around 90 per cent of the problems typically faced by customers in case of a vehicle break down.
When a Maruti Suzuki customer reports a vehicle breakdown, a web-based system identifies the GPS location of the nearby technician and assigns him for the complaint. The customer and technician can connect over phone and see each other's location and estimated time of arrival, through the Maruti Care App. The Quick Response Team on 350 bikes joins the fleet of over 415 Maruti Suzuki on-Road Service (MoS) vehicles to attend to customer cars across the country.
Customers can enjoy the "QRT service" / "MoS service" on a complimentary basis under the Extended Warranty offered on Maruti Suzuki cars. For cars not covered under Maruti Suzuki Warranty/ Extended Warranty, the QRT service is available on a per-call basis with visiting charges ranging between Rs. 420/- to Rs. 575/-, depending on location of customer's car.