Maruti, Suzuki and Toyota and the future of electric vehicles in India
The Government Of India has been adamant that India must switch to electric vehicles and has set a deadline for 40 per cent of all vehicles sold in India to be electric by 2030. Maruti Suzuki dominates the Indian market and they're going to be at the forefront of this massive change in the way India moves around. The backdrop, of course, is the Suzuki-Toyota memorandum of understanding and more recently the Suzuki battery plant that is coming up in Gujarat. At a media meet in Delhi today, Maruti revealed more of what they're thinking about India, electric vehicles, batteries, infrastructure and Suzuki and Toyota.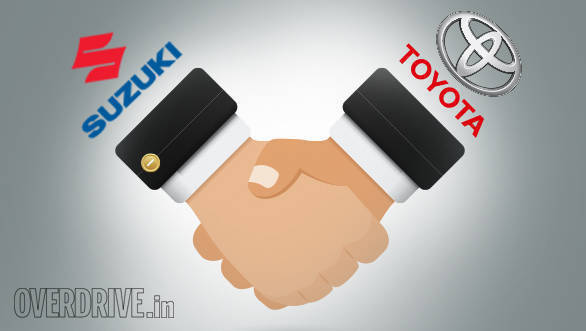 It's not the end of the line for internal combustion
First of all, Maruti clarified that this isn't the end of the line for the internal combustion engine. Not just yet.
First, more policy-level enablers need to be created for EVs to become more cost-effective. This includes the inspection and maintenance regimes that do not exist in India as well as the vehicle scrappage scheme that SIAM has been lobbying for.
But either way, India is going to have a transition. The goal is for 40 per cent of private vehicles to be electric and all the fleet vehicles. But the ICE will stay. Most places that have the all-electric by such and such date don't have growing markets. We do. By 2030 India will be a 20 million unit playground. The ICE has to stay and hybridisation and other technologies will have to be used. And companies will not have a choice about investing in the ICE.
RC Bhargava gave this example. To reach 40 per cent by 2030, Maruti will have to have them in the mix of a total of 71 million cars (30 million cars is the population today), assuming 8 per cent growth. That will mean cumulatively 14.4 million electric vehicles but the rest, a number four times the size will still have internal combustion engines.
That's just too big a number for manufacturers to not worry about their tail pipe emissions and impact. Too big a market for it to not be profitable. Literally millions of non-electric cars will be sold before the whole market flips to all-electric.
He also noted that some kinds of engines or vehicles won't make it. For instance, he sees the difference between a small diesel hybrid and an equivalent petrol hybrid balloon to unrealistic levels with BSVI levels of emissions.
The future is electric vehicles and then fuel cell vehicles but the day of the petrol engine is far from over.
Maruti will enter the charging infrastructure space
When Maruti starts selling their first electric vehicle in 2020, RC Bhargava believes it will have to setup some charging facilities. He expects initial customers to charge their cars at home but it is unrealistic to expect them to never want to leave their city and travel outward. That's why Maruti will need to provide charging stations. Will they be at petrol pumps, Maruti dealers? Maruti Service Stations? That isn't clear yet. But it's pretty clear that the EV customer will want to travel in his new car and Maruti will have to help him.
Maruti will execute but tech will come from Suzuki and Toyota
As the company has said earlier, Maruti will release its first electric vehicle in 2020. But it made sure we understood that while Maruti will be the executor, as it were. - it will make, sell, service and recycle these vehicles, it didn't intend to reinvent technology that "the parents" Suzuki and Toyota already had.
RC Bhargava said that the Suzuki-Toyota memorandum of understanding aimed at hybrid, electric and fuel cell vehicles. But the strong push for the Government Of India has made them take electric vehicles out and fast-Track them. "Fuel cells can wait. EVs cannot wait!", he said.
The 2018 Toyota iQ EV
In terms of technology, he said that Maruti has no real electric vehicle technologies. But Suzuki does. Toyota has even more than Suzuki. Together the two manufacturers have the technology required to make, use and recycle batteries as well as to build the infrastructure needed. He also added that being Maruti, localisation will be done as fast as possible. High import content had never been Maruti's philosophy and that policy will not change for electric vehicles.
It must be made in India!
When asked about the manufacturing arrangement, company officials said that the Toyota-Suzuki arrangement does have a framework but whether Maruti will exclusively be making electric vehicles or not isn't known just yet. What is known is that Maruti will sell its first EV in India in 2020 and Suzuki will start making batteries at its new Gujarat plant also in 2020. As far as he knows, said RC Bhargava, Chairman, Maruti Suzuki said, this plant was the only battery cell manufacturing facility in India.
But more will come. He explained that to reach 40 per cent of total sales with EVs, if it goes to plan will mean 4 million electric vehicles. That's a very, very large number of battery cells - not possible without more battery manufacturing in India. He went to add that if battery manufacturing, the electrical and electronic systems etc were not localised and made in India, it would fail the Make In India initiative. He reiterated that the Government wants local manufacturing.
The first step: a market survey
RC Bhargava further noted that most of the comments about electric vehicles emerging right now in India come from a place of ignorance - referring to himself as the first in that crowd. But he says two things. First Maruti's commitment to electric vehicles is unequivocal and second the company's job is to meet customer requirement. The Maruti 800 was a response to a survey and Maruti intends to launch a customer survey within the next week or two. It's only after the survey finishes – sometime in February 2018 – that realistic comments can be made, he said. Only then will Maruti have an "authentic basis" to answer electric vehicle questions.