MapmyIndia introduces Mappls gadgets for cars and 2-wheelers
MapmyIndia, a locally produced provider of advanced digital maps, has launched its latest line of Mappls Gadgets, which includes smart helmet kits for vehicles and two-wheelers as well as vehicle GPS trackers, dash cameras, in-dash navigation systems, and dash cameras.
These new devices may be purchased at authorized accessory dealerships and the company's official website for a starting price of Rs 4,990.
Customers can easily follow their vehicles, assets, and loved ones at all times with the four different vehicle tracking systems offered by Mappls, giving them the ultimate piece of mind that they will stay safe on the road. When used in conjunction with the free Mappls Super App, the trackers provide users access to a variety of functions, including geofencing warnings, overspeeding and excessive stopping alarms, trip replay, daily distance travelled, ignition on/off notifications, and driving behaviour.
With the Mappls Super App, the dual-camera dash camera Mappls CarEye provides live video streaming of both the front and cabin view of a vehicle. It analyzes driving behaviour and can find other things like rude driving and overspeeding. Moreover, CarEye can track the vehicle's location in real-time, give trip replay information, and offer capabilities like geofencing and ignition detection.
The integrated and connected entertainment and navigation systems (ICENAV Systems) offered by MapmyIndia Mappls are intended to keep drivers entertained and alert for extended periods of time. In addition to providing features like video output, rear view AHD camera support, Android-based OS, CarPlay, Android Auto, Full HD 1080p Media Playback, 9 or 10-inch IPS Display, High-Quality Audio Output, Smartphone Mirror Link connectivity, offline navigation with live traffic updates and much more.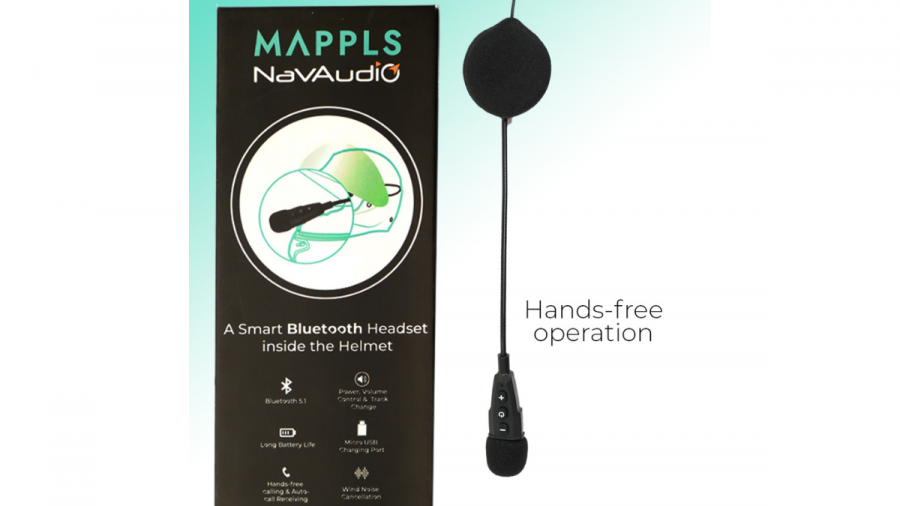 By converting standard helmets into smart ones, Mapps Navisor and Navaudio assist two-wheeler users in navigating securely without taking their eyes off the road. With the use of Augmented Reality technology, Navisor delivers visual navigation cues and has features like Collision Detection and SOS sensor, auto-brightness and all-weather visibility, Bluetooth 5.0 technology, and a battery life of up to 12 hours.