Mahindra Racing to supply Moto3 bikes to Ambrogio Racing
Mahindra Racing is now in its third season of Moto3 and their MGP3O has met with considerable success. A measure of this success can be seen by the fact that the 2013 Mahindra MGP3O will now also be supplied to Ambrogio Racing.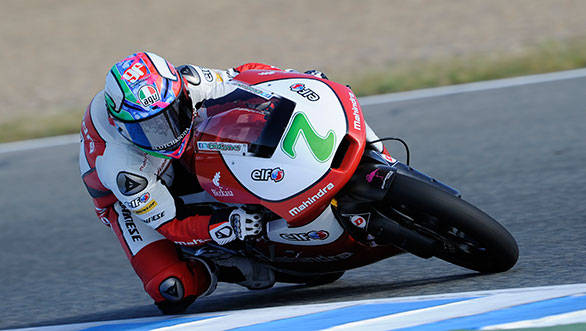 Ambrogio Racing will race the MGP3Os starting at the round in Misano
Ambrogio Racing will race the MGP3Os starting at the round in Misano. The team's German rider, Luca Amato, and South African teammate Brad Binder will switch to the MGP3O for the remaining six Moto3 races of 2013.
The agreement with Ambrogio will mean that five Mahindra MGP3Os will be seen on the Misano grid. Mahindra Racing's Italian Championship (CIV) Moto3 class-leader, Andrea Locatelli (16), will make a World Championship wildcard appearance alongside factory-regulars Miguel Oliveira and Efrén Vázquez.
Designed and built at Mahindra Racing's state of the art factory in Switzerland, the MGP3O single-cylinder, 250cc racer has proved its worth from the first tests. Apart from being reliable, this four-stroke machine is also very competitive. In the first half of its debut season, the prototype has already claimed four front row starts, including one pole position, and has regularly fought in the leading group of the Moto3 class, narrowly missing the podium in a number of races.
Mahindra, the only Indian constructor in grand prix motorcycle racing, is continuing its development of the MGP3O during the remainder of the 2013 season.
Moto3 regulations dictate that manufacturers must be prepared to supply up to 15 riders in the class, and Mahindra Racing has geared up for further production in time for the 2014 season.
"So far this season we have definitely proved the reliability and performance of the MGP3O," said Mufaddal Choonia, CEO of Mahindra Racing. "We are confident of further improvements and there is a lot of development work still underway in Switzerland and India at the moment."
Team owner of Ambrogio Racing, Fiorenzo Caponera, said: "Improving the team's performance is our constant target, as we want to give our riders the best possible chance of showing their talent. Mahindra is a recent name in the World Championship, but its commitment and excellent results so far this season make Mahindra the perfect choice for our programme."