Mahindra Racing claims open-wheel eRecord at Goodwood FOS
Nick Heidfeld's made it something of a habit to set records at the Goodwood Festival of Speed. The German driver has the outright record at the FOS, with a time of 41.6 seconds in the McLaren MP/4 13 F1 car, which he set back in 1999. He's now gone and claimed an open-wheel eRecord too, this time putting the M4 Electro through its paces over the hillclimb course.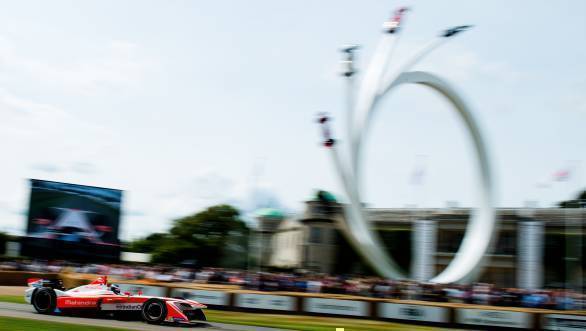 Nick Heidfeld during his run up the hill climb course in the M4Electro during the 2017 Goodwood Festival of Speed
Heidfeld got behind the wheel of the M4Electro, the car that the Mahindra Racing Formula E team will use in the upcoming 2017-2018 season of the championship, and did runs up and down the hill on all four days of the event. Over the course of his attempts he managed to reduce the time to 48.59 seconds, which was declared to be the official record and fastest time for an electric car over the course.
The M4Electro also competed in the final shoot out that comprised 42 cars of various makes, including the Le Mans GT-winning Aston Martins, Euro-NASCAR machines, and a Porsche 911 GTE Cup car, taking home the fifth-fastest lap time.
"We really enjoyed our time at the Goodwood Festival of Speed. Not only have we unveiled the M4Electro to the public, but we have also challenged the sceptic's view of electric vehicles being neither fast nor exciting. It's been great to invite the fans to walk around the garage and ask as many questions as they like," said Dilbagh Gill, team principal, Mahindra Racing.
"It was great fun to drive up the hill with the target of setting a new electric single-seater record, which we managed to do – but I think we have to come back to challenge the outright electric record! It's positive to see that next season's drivetrain, which we showed here for the first time, ran problem-free. We haven't had many tests with it before so, all-in-all, it was a very good, productive and fun weekend," said driver Nick Heidfeld after the event.
Price (Ex-Delhi)
Starts Rs 1.38 Crore