Mahindra group and Maharashtra government sign MoUs to expand presence of EVs in the state.
At an event held in Mumbai today, the Mahindra group and the government of Maharashtra signed two MoUs to expand the presence of electric vehicles in the state.
With the first MoU, the company will make efforts to improve its EV manufacturing infrastructure by further investing an additional Rs 500 crore in its Chakan plant for the manufacture of EVs, e-motor, controllers, battery packs and other electric vehicle components for various mobility applications.
The second MoU underlines the intent to explore a strategic alliance to enable Mahindra to deploy EVs across key cities in Maharashtra. Towards this, both the company and the Government will work closely with various fleet partners, taxi aggregators, logistics companies, amongst others to deploy 1,000 electric cars over the next 1 year.
To this end, a flag-off event was also hosted at the Gateway of India, where 25 Mahindra e2o electric cars were added to the Zoomcar fleet in Mumbai. This is an extension of a similar programme the two companies launched in Delhi some time ago and in Mysuru, Hyderabad & Jaipur before that.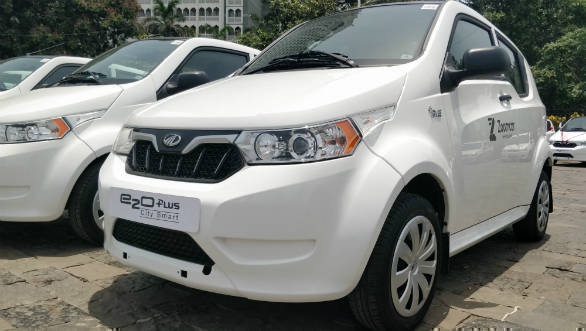 Further, the Mahindra Group and will also liaison with technology partners for motor controllers, power electronics, battery pack, drivetrain and components, which are currently being imported. The company will supply to companies with the group as well as to other customers.
The flag-off ceremony also saw the Maharashtra government inducted the EESL Tata Tigor EV and Mahindra eVerito into its fleet.
This development is in line with the strong push towards EVs that has been seen from government bodies recently. Mahindra too has been building up presence in the EV sector to contend with rising global trend towards electric vehicle acceptance. This deal will help the company become better prepared for this shift. The special focus on shred mobility platform should also help address some of the grievous environmental concerns being faced in Mumbai and other regions currently.
Price (Ex-Delhi)
Starts Rs 5.75 Lakhs