Mahindra GenZe 2.0 electric scooter spotted testing in India
The Mahindra GenZe 2.0 electric scooter has been spotted testing in India for the first time. This is one of the very Mahindra and Mahindra offerings that has so far been solely built and sold outside India. Hence, spotting this electric scooter being tested here comes as a surprise. Mahindra currently manufactures the GenZe 2.0 at a facility in Ann Arbor, Michigan in the US. Mahindra may be testing the GenZe 2.0 in India for reliability. However, it is unlikely that the GenZe 2.0 in its current form will be sold in India given the price limitations. The GenZe 2.0 has a unique skeletal build with a single seat for the rider and the rear seat space being utilised as a loading bay. The reason for this is that US regulations state that such a two-wheeler with two seats has to be registered as a motorcycle.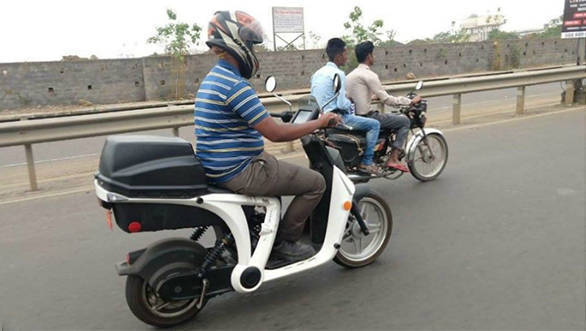 Mahindra had first showcased the GenZe 2.0 electric scooter at the 2016 Auto Expo. It was developed under a tie-up with US-based mobile service provider AT&T. The GenZe 2.0 is essentially a fully electric scooter that can exchange data with other AT&T products like Global SIM and Control Centre to build what Mahindra calls the GenZe Mobile Rider Solution. The GenZe works on a CAN (controller area network) bus network, which is a communications network that interconnects components inside a vehicle.
Another technology called GenZe Cruise Connect System regulates data through a cloud-based system. The GenZe has a usable range of nearly 50km and requires about three and a half hours for a full charge. Top speed is 50kmph. The scooter uses a full aluminium frame to keep its weight low.