Mahindra Electric and Zoomcar extend self-drive EV collaboration to Mumbai
At an event today in Mumbai, Mahindra Electric and Zoomcar have announced that they will work together to provide 50 Mahindra e20 EVs on Zoomcar's platform in the financial capital. This is an extension of a similar programme the two companies launched in Delhi some time ago and in Mysuru, Hyderabad & Jaipur before that.
Mahindra Electric is the of the Mahindra Group while Zoomcar is a prominent player in the self-drive car rental market. The Mahindra group is also a major investor in Zoomcar, holding roughly a 16 percent stake
The vehicles under this initiative are to be financed by LeasePlan. Additionally, Zoomcar has a larger financing arrangement with Mahindra Finance, through will Zoomcar finances its fleet of electric vehicles. This announcement also comes as one of the first initiatives taken in the light the MoUs signed by the Mahindra group and the Maharashtra government.
After Delhi, Mumbai seems to be the most pertinent choice of city to roll out this service. The city sees heavy traffic movement and given that it is the country's financial capital and its biggest centre for business, this facility should find many takers.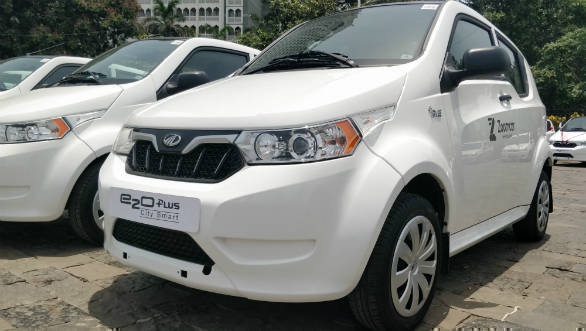 The e2o gets an electric motor which is powered by a 48V lithium-ion battery and makes 25PS and 53Nm. The top P8 trim gets a more powerful electric motor which generates 40PS/91Nm. It can be charged by plugging it into any 16A plug point, and the fast charging mode allows it to get fully charged in just 1 hour and 30 minutes. It comes equipped with a reverse camera, electric power steering and hill assist feature. The car also gets regenerative braking and Mahindra Electric's Revive feature, which adds 10 km to the range when the battery is low. The car has a top speed of 85kmph and can cover up to 140 kilometres on a full charge. Prices start at Rs 4.99 lakh (ex-showroom Delhi).
Zoomcar and Mahindra Electric are hoping this initiative will promote a connected and shared electric mobility model, in line with the recommendations in the NITI Aayog report on the government's 2030 vision.