Mahindra e-Alfa Mini electric rickshaw launched at Rs 1.12 lakh
Mahindra and Mahindra has launched the Mahindra e-Alfa Mini electric rickshaw at a price of Rs 1.12 lakh (ex-showroom, Delhi). Mahindra e-Alfa Mini, India's first electric rickshaw has been launched initially in the Delhi/NCR region, and will subsequently be launched in Kolkata and Lucknow, followed by other cities of the country. Mahindra claims that the e-Alfa Mini is capable of 85km range on a single charge, with a top speed of 25kmph. The Mahindra e-Alfa Mini electric rickshaw is primarily aimed at intra-city transport. The e-Alfa Mini has a seating capacity of 4 passengers plus a driver. The government push for an all-electric vehicle future for India has led to a slew of related announcements including Suzuki's new lithium-ion battery plant in Gujarat.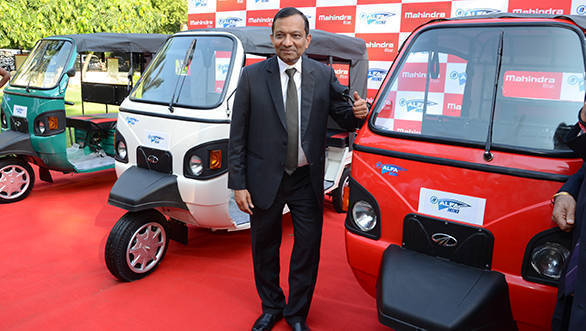 Mahindra e-Alfa Mini is currently on sale in Delhi/NCR and will be launched in other cities soon
The Mahindra e-Alfa Mini has a single 1,000-watt electric motor that is powered by a 120Ah battery and controller. The electric rickshaw is the first in India to offer eco-friendly intra-city and last mile connectivity. The Mahindra e-Alfa Mini is the fifth electric vehicle on offer by Mahindra after the e20 Plus, eVerito, eSupro Passsenger and eSupro Cargo. The company states that 1,000 units per month of e-Alfa Mini are being manufactured currently and production will increase as demand increases with its launch in more cities.
Mahindra also offers a 2-year warranty on the electric vehicle, which includes a battery pack replacement. There are low down-payment EMI options also available to make the e-Alfa Mini accessible for more buyers, the company stated. It should be recalled that union minister of road transport and highways Nitin Gadkari recently addressed the SIAM 57th Annual Convention reiterating the government's vision of all-electric vehicles in the country by 2030.