Living the Life of a Gypsy. With a Maruti Gypsy.
With the recent launch of the Maruti Suzuki Jimny, there is a renewed interest in its predecessor the Maruti Gypsy. Several photographs of the Maruti Gypsy have emerged on social media and there is a fair bit of talk on its off-roading abilities, etc.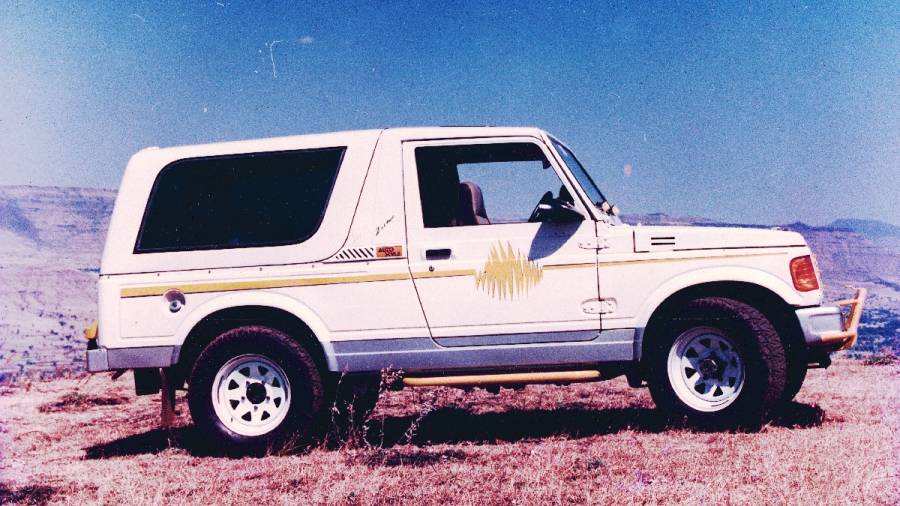 This is one of the first Gypsy's I modified. Note the low roof hardtop, specially imported Weller steel wheels and side nerf bars and indicator light fitted in the fender.
Some of my friends, and even few of you my dear readers, who know about my long association with the Maruti Gypsy and how I was one of the first person's in our country to modify the Gypsy and also travel long distances in several of them, have suggested I write about "My Life with a Gypsy".
There were many other mods and additional fitments including a sunroof, which was very rare then. It also had rectangular headlights and a handcrafted grille, front light bracket cum crash guard, bonnet pins, and so on.
Ever since I was born, there has been a nomad within me. A nomad that believes, "The best way to see a place or country, is through the windscreen of an automobile". And I have spent over 40 years and some of the best times of my life, behind the steering wheel exploring and discovering.
Here is the Gypsy with the hardtop removed. Note the front facing bench seat at the same level as the front bucket seats. This was the first ever Gypsy in our country to have a front facing rear bench seat at the same height as those in front.
On my countless road trips and driving holidays and expeditions, I have had several diverse vehicles as companions, ranging from a Premier Padmini to a Rolls-Royce Phantom! But the Maruti Gypsy has to be special. Very special. Because for a span of 15 odd years, I drove various Gypsy's, all across our country.
Was great fun "Living the Life of a Gypsy".
I must have owned at least a dozen different Maruti Gypsy's, most of which I extensively modified to suit my requirements. And I also modified some Gypsy's for friends and later also for few customers who were keen I do up their Gypsy's too.  Initially in the mid-1980s, I modified the 1000 cc narrow track Gypsy and later 1993 onwards, the wide track Gypsy King with the 1300 cc engine.
This is my Gypsy that later on got the named Predator, as I spotted many wild cats and predators while driving it.
When the Maruti Gypsy was launched in India in 1985, our country was very different from what it is today. The condition of our roads and infrastructure was extremely poor and with most bridges either being broken or under repair, you often had to take a diversion through difficult riverbeds.
The metal hardtop was fitted with clamps and could be easily removed. And it helped me exchange "Jungle ki Khabar" with the famous Kuttappan, who later came to be known as the "Elephant Man of Bandhavgarh National Park".
Kuttappan not only tracked tigers, but also photographed them. Those were the days. Can you now imagine standing in front of couple of elephants and having a conversation with the mahout inside the Bandhavgarh National Park!
I drove well over a lakh kilometres in this Gypsy and photographed a lot of wildlife from it. Note the front hardtop panel is removed, but not the rear portion. The original round headlights were replaced with twin rectangular ones, and the grille was also custom built.
Back then wildlife tourism was also in its infancy and you were allowed to take your own vehicle into most national parks. And because there were few visitors, the dirt tracks in our jungles were also tough and demanding, and one required four-wheel drive (4WD) with a low ratio transfer case, to negotiate many sections.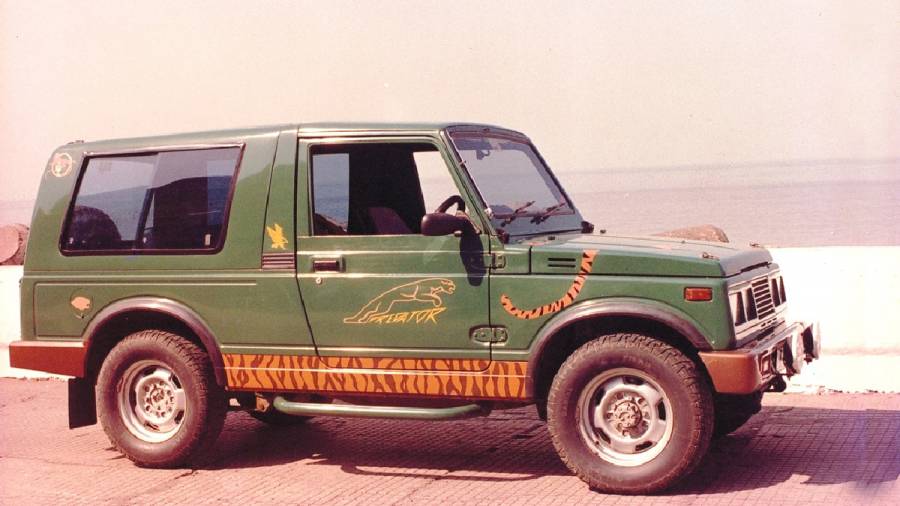 Now here it is in in its "Predator" avatar, complete with a tiger's tail and pug marks on the bonnet.
In those times, the Maruti Gypsy was an ideal long distance touring machine as it was very strong, most reliable and in comparison to other vehicles available then, reasonably powerful too. With live axles and leaf spring suspension on all four ends, the ride was obviously very bouncy and uncomfortable.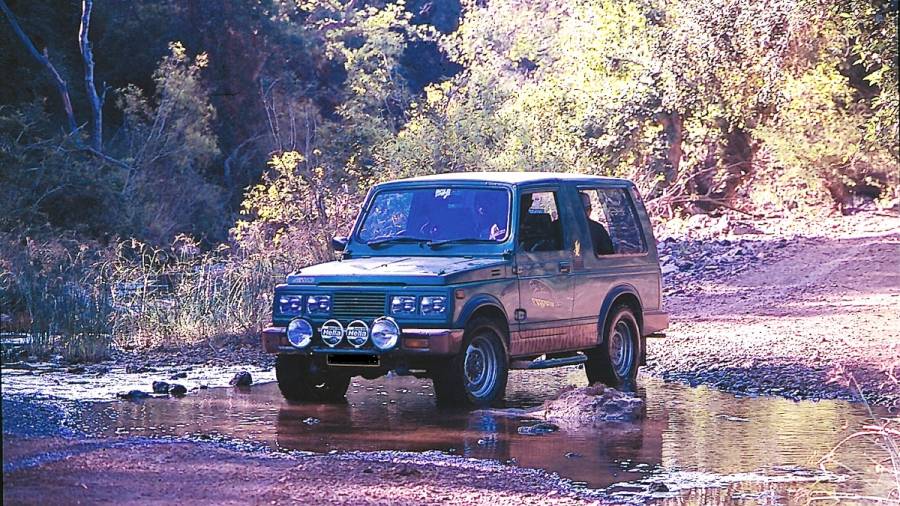 Predator deep in the woods, where it belonged. With that kind of candle power it literally lit up the night!
The soft-top, which could be easily removed, made open top motoring in the forest, or while off-roading loads of fun. But on the road and highways, it flapped and made lots of noise and as it was not airtight, it let in the exhaust fumes too, which made things even more uncomfortable. With the soft-top being easy to open, there were also security and theft issues, especially if you were carrying luggage.
I did some serious off-roading in Predator and made extensive use of its 4WD low transfer case. And this was back in the day when off-roading was still largely unheard of in our country.
It helped me explore all sorts of terrain, including the Rann or salt desert. And not once did Predator let me down, and I regret selling it even today.
For all these reasons I started modifying Gypsy's, one of the first being for my dear friend Suvir Mirchandani. Suvir is an avid traveller and over the years we have done many trips and expeditions together. So when I was modifying his Gypsy just a couple of years after Maruti launched it, the brief was very clear.
Predator was replaced with the wide track, 1300 cc Gypsy King with a 5 speed gearbox. And I also modified it and fitted my trademark removable hardtop with front facing rear seat. Note the tiger stripes, which became another hallmark of my Gypsy's.
This Gypsy I called "Nomad" and you can see the logo on the door. Note the massive sliding windows at the rear. The front hardtop panel has also been removed and kept in its designated space in the boot.
Fabricate a hardtop, but a removable one so one could use it while travelling on paved roads, and remove it once you got into the wilderness. The rear side facing seats were most uncomfortable on long journeys, and as the flooring at the rear was raised, the seats were placed higher too, which further added to the discomfort of passengers in the rear.
I also tried a few Gypsy's with the factory fitted fiberglass hardtop and front facing rear seat. Sadly, the rear seat was at a higher height than those in front. Nevertheless, we did a lot of exploring in this one too.
It also had my trademark custom paint job and extra lights mounted on the specially fabricated light bracket.
So I decided to fit a front facing bench seat at the rear, but at the same level as the front buckets seats. This required some ingenuity or "Jugaad" and after relocating few of the mounting points of the exhaust system and reshaping the pipes, the rear flooring was cut and a depression created to fit a front facing rear seat at the same level as the bucket seats. This then went onto become a trade mark of my modified Gypsy's, most of which had easily removable low roof metal hardtops, with a front facing rear bench seat at the same level as the bucket seats.
This one was called "Track n Trail" and took us from tropical forests to sandy deserts.
Incidentally, my Gypsy's and the front facing seat attracted lots of attention whenever I visited any wildlife sanctuary or national park. And many local safari drivers copied the front facing seats (without lowering the flooring of course) and now these are common all over our country and can be seen on almost all the Gypsy's used for jungle safaris.
Back into the wilds with another Gypsy that I called "Moody Blues".
On my Gypsy's, I would also install custom fabricated light brackets cum crash guards, side nerf bars, and so on. To improve the performance, I would slightly shave the cylinder head and polish the combustion chamber and ports, and also install a free flow exhaust system.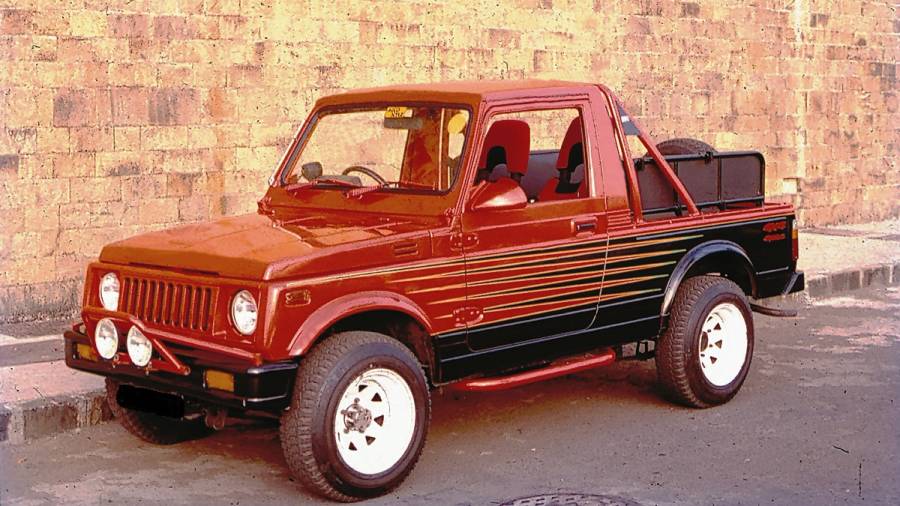 This Gypsy was made as attractive as possible to cruise the streets. Note the Weller steel wheels, rear roll bar, sporty door mirrors and bucket seats with elongated headrests, and of course, the eye catching custom paint job.
Almost all ran on gas shocks with the leaf springs being slightly reshaped and softened, to improve ride comfort. And of course, all the Gypsy's were given a special custom paint job, usually done at the workshop of my good friends Manvendra Singh Barwani and Tripu Singh.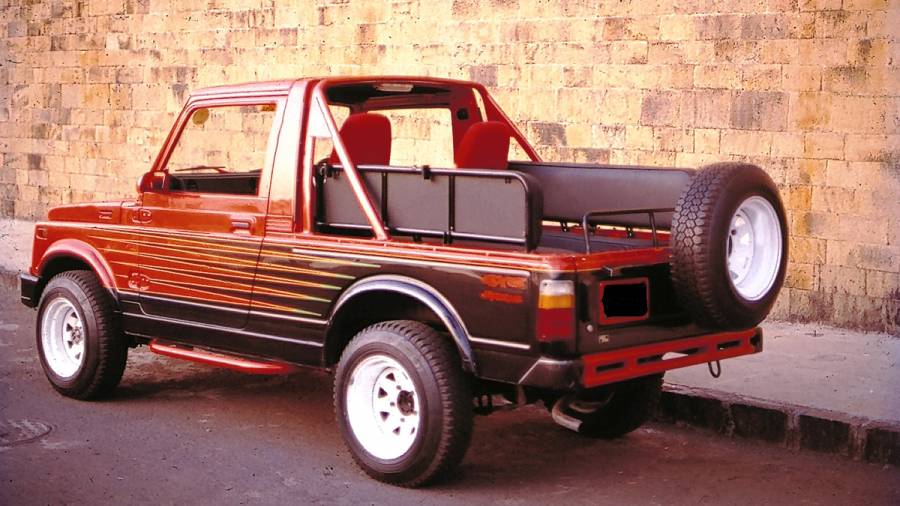 This is the only Gypsy where I retained the original rear seats. Note the tailor made tube bumper and vertical taillights.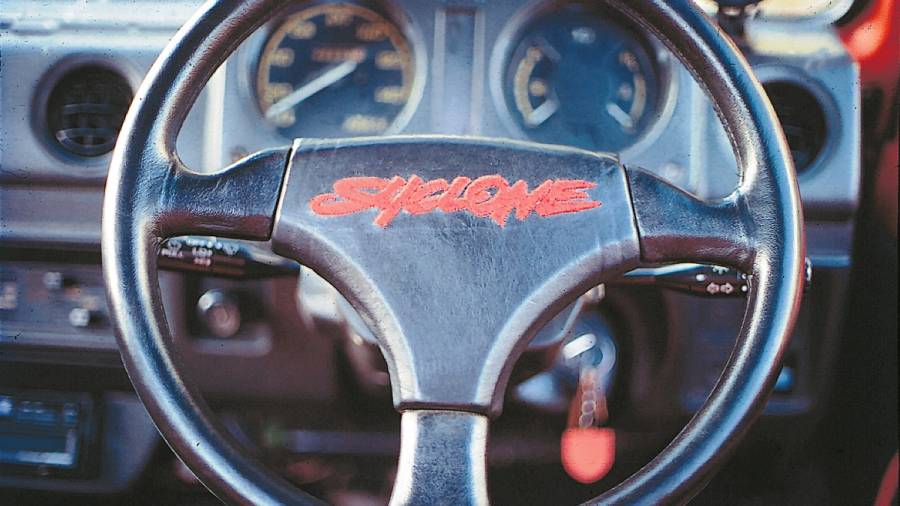 The sports steering wheel had this Gypsy's name "Syclone", embossed on it.
I even made a couple of urbane Gypsy convertibles, with the idea being to cruise the streets and boulevards and attract attention, especially from the fairer sex! Today, when I look back I find some of the body mods over the top and not so aesthetic. But I guess it was all part of the learning and growing process.
This is another Gypsy I modified for "Urbane Appeal". The entire front end, including the bonnet was changed. Note the colour coded wiper arms and blades, and twin additional fog lights integrated within the made to order bumper.
However what cannot be denied and what is most important, is that I had loads of fun modifying each and every Gypsy, whether it was my own or it belonged to someone else. And as far as my own Gypsy's are concerned, right from the mid-1980s to the 2000s, they took me to numerous delightful destinations, and I cherish all the experiences and memories associated with them.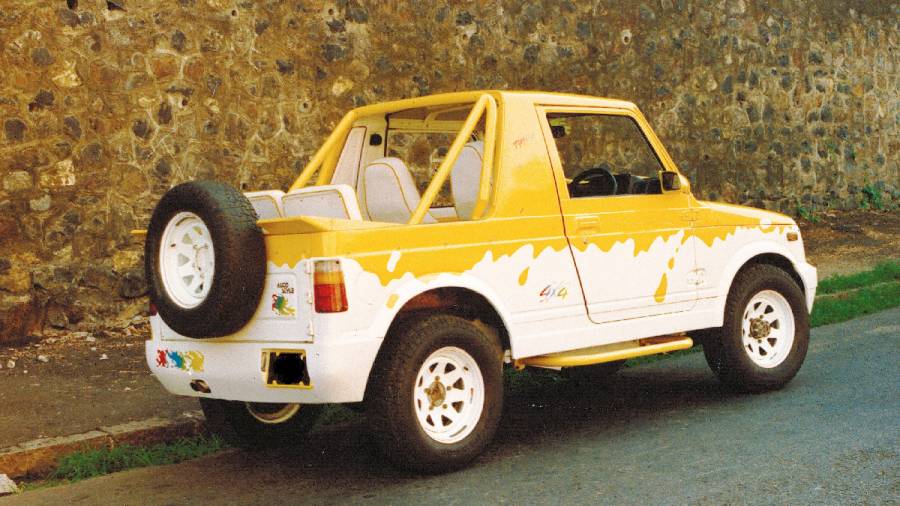 The rear overhang was substantially reduced by cutting the ladder frame chassis. Note the rear roll bar, twin bucket seats in the back, rounded bumper and rear spoiler with the spare wheel mounted in the center for better balance.
So yes, I have "Lived the Life of Gypsy with the Maruti Gypsy" and believe me every moment was gratifying and enriching.  This I think is best described in songwriter Ernie Maresca's lyrics, "I hop right into that car of mine and ride around the world. Yeah I'm the wanderer, yeah the wanderer. I roam around, around, around, let's go".
This is a symbol of "Living the Life of a Gypsy".
All photos and copyright Bob Rupani