Limited edition Ferrari Monza SP1 and SP2 showcased
Ferrari has launched two new special edition sports cars with the Monza SP1 and SP2. These barchettas come without a roof or a windscreen and will only have a combined run of 500 units.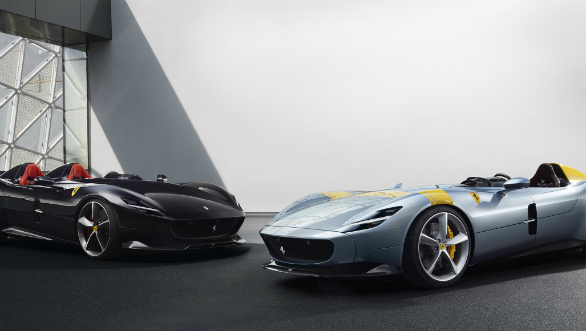 The design of these two cars harks back to Ferrari's earliest outings with this body style. The company says it looked at the 166 MM and the 750 Monza for inspiration and this is clear throughout the car. The smoother curves, more upright lights and the speed humps behind the driver's seat are all touches that are reminiscent of sports cars from the 1950s and 60s.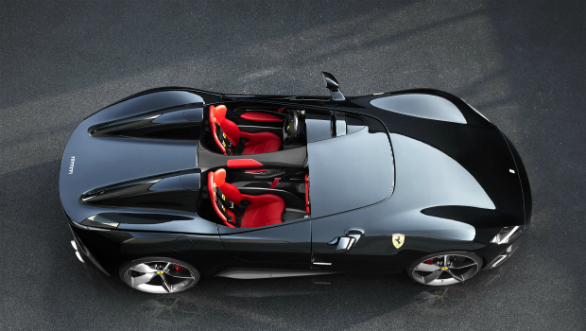 These elements meld cleanly with modern day design traits like the string haunches, the rear diffusers and prominent splitters up front. The body is primarily carbon-fibre with Kevlar strengthening. the windscreen delete issue has been dealt with by way of the small fairing in front of the instrument cluster which diverts airflow over the driver.
The SP1 and SP2 are powered by the most powerful road-going Ferrari engine ever. These cars use the 6.5-litre V12 from the 812 Superfast but with a 30PS bump in power. The engine now puts out 820PS and 718 Nm. The modified version of the Superfast's aluminium underpinnings forms the base of the limited-run cars. The single-seater SP1 weighs 1,500 kg while the two-seater SP2 comes in at 1,520 kgs. A tonneau cover replaces the passenger seat in the SP1.
These cars will do 0 to 100 kmph in 2.9s and cross the 200 kmph mark in 7.9s. Ferrari says the SP1/SP2 will do more than 300 kmph. More details will be revealed at the Paris Motor Show but a price tag upwards of Rs 14 crore is expected, this excludes taxes and duties.
The Monza SP1/SP2 seem like the best embodiment of what Ferrari stands for in the present day. The company is at the top of its tech game and has handled shifts in the industry like turbocharging and electric propulsion in a manner that hasn't diluted its image in any way. All this while keeping stock of its rich heritage.