Lego now gets its hands on the Lamborghini Sian FKP 37
The recent run of memorable auto-inspired Lego kits continues with the toy-maker now turning its attention to the Lamborghini Sian FKP 37.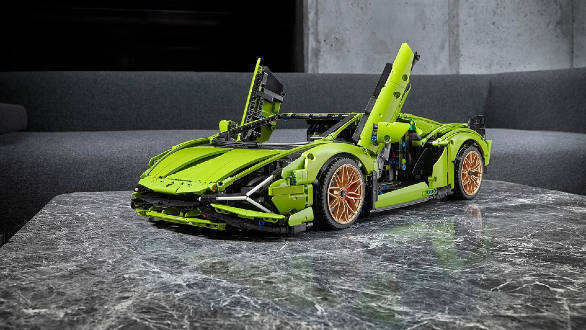 The Lamborghini Sian is the newest in the line of the outrageous limited-run models that Lamborghini has been making over the past few years. The Sian is possibly the most outrageous one of these given the way it looks but what's underneath is even more interesting. It's the brand's first hybrid hypercar and uses an updated version of the 6.5-litre V12 from the Aventador SVJ. Given the electrical assistance, it also happens to be its most powerful car yet. The combined power output is 819PS which lets the Sian get from 0 to 100 kmph in under 2.8 seconds and go on to a top speed of over 350 kmph. The e-motor uniquely is powered by a supercapacitor.
The Lego version of this hypercar, from the Technic line, is a 3,696 piece, 1:8 scale model. The model is quite large, (60 cm long, 13 cm high and 25 cm wide) but exceptionally well recreated with many functioning parts. There's a replica of the V12 engine, a moveable rear spoiler, front and rear suspension and working steering wheel. The scissor doors on the models work as well, which open to reveal a similarly well-recreated cockpit, with a fully-functioning eight-speed sequential gearbox controlled by a movable paddle gearshift.
For owners, there's a Lamborghini overnight bag in the front hood of the Lego Sian along with access to specialize content from Lamborghini and Lego on how to go about the project. Unlike the Chiron from sometime ago, Lego's Lamborghini Sian isn't a limited run kit. But the company will limit two kits for each buyer. The Lego Technic Lamborgini Sian FKP 37 will be one of the more expensive automotive sets from Lego yet, it goes on sale online on June 1 and will be available at retailers from August 1.
Price (Ex-Delhi)
Starts Rs 4.78 Crore
Related Stories