LeEco LeSEE electric car unveiled in Beijing
LeEco has decided it wants a piece of the proverbial pie by unveiling its own all-electric car at an event in Beijing. Previously, the company tied up with Aston Martin to help develop their all-electric RapidE, as well as funding Faraday Future with their 320kmph concept electric supercar, the FFZERO1. Formerly known by the name LeTV, the Chinese manufacturer is famous for its recent booming success in the smartphone territory. Founded in 2004, the technology company now has ventures in multiple areas like internet TV, video production, smartphones, and now, electric cars.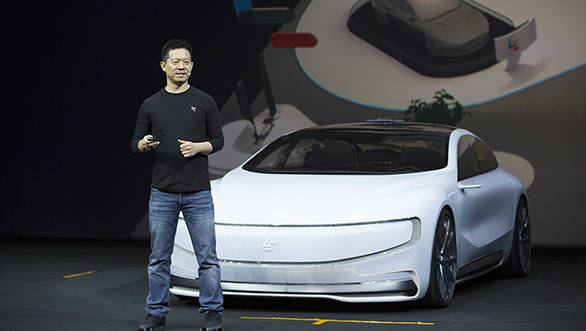 LeSEE, LeEco calls it, will be the companies first foray into automobiles, and will be developed by their recently opened automobile division, called LeAuto. The division was created to help Aston Martin with their RapidE. The 'SEE' in LeSEE stands for 'Super Electric Ecosystem', suggesting it will be a performance oriented electric car.
The battery pack is placed in the floor of the car, giving it a low centre of gravity for nippy handling. The interiors are a futuristic affair with an augmented reality windscreen, morphing seats, and cameras instead of side mirrors. The company has announced that the car in its current form is good for 209kmph. We expect a sub-4 second sprint to a 100kmph and a top whack of around 250kmph in its production form.
The car is also aimed to be semi-autonomous, making it a direct competitor to Tesla and Google, as well as other manufacturers going down this path.