Le Mans 2017: Gulf-liveried Tockwith Motorsport car will start 27th on grid
The 24 Hours of Le Mans are about more than just 24 hours. They also involve tiring days at the Circuit de la Sarthe that precede the big race, from the official test day, to the two days over which qualifying sessions are held in three batches. It was an eventful, if tough time for the two machines with Gulf connects at the qualifying sessions.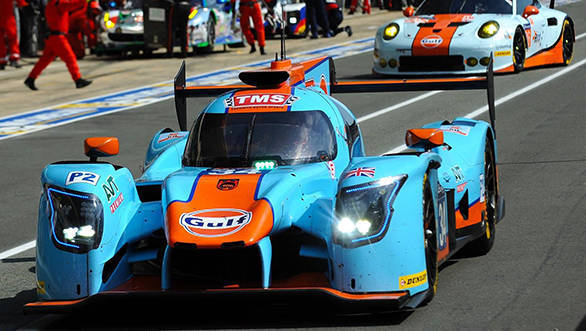 In the LMP2 class, trouble for the Tockwith Motorsport outfit began during the first Qualifying Practice session on Wednesday. The LMP2 Ligier had an issue with the electronic fly by wire throttle, which meant that Indian driver, Karun Chandhok who was in the car at that point needed to nurse it back to the pitlane. However the team ended up being classified 30th after the session. Things got better from there, though, with the No.34 Ligier making it to 25th in the second qualifying session, with Chandhok and team-mates Nigel Moore and Phil Hanson seeming moderately satisfied with the outcome. They were classified 25th during the third qualifying session too, that too a session where Moore spun and nearly put the car in the gravel towards the closing stages. When the combined qualifying results were declared, the team was ranked 27th, which means that is the spot in which they will start the 2017 edition of the 24 Hours of Le Mans.
For the Gulf Racing UK team, who are racing a Porsche 911 RSR in the GTE Am category, it is a qualifying that they would like to forget. Especially after the team's driver Ben Barker crashed during Q3. This means that Barker, Mike Wainwright and Nick Foster will start the 24 Hours of Le Mans in 2017 from 59th on the grid of 60 cars. Don't let that fool you into thinking there's no hope for them. The team might be small, but they've got plenty of heart and never give up. It could well be a good year for them in the Am class.
The 24 Hours of Le Mans starts at 15:00 CET on 17th June, 2017, and ends exactly 24 hours later. Follow @odmag for all the latest updates about Gulf, Karun Chandhok and the way things are turning out at Le Mans!
Price (Ex-Delhi)
Starts Rs 1.38 Crore