Lamborghini Veneno first ride: the Rs 50 crore hypercar experience
I happen to believe that my many lucky stars are thanked more than most. I have a job that has in a relatively short period of time, allowed me to experience more exotic places and machines that many would in a lifetime. But every now and then comes one of those extra special opportunities. Being one of only two journalists from Asia invited to spend three days in Rome to watch a bunch of super cars race at breakneck speeds is one of them. The good folk at Lamborghini made things even more exciting with the news that we'd get to drive both the Gallardo and the Aventador on the Vallelunga race track. And then just to top it off we were told we have a 'pleasant surprise' in store. Really? What could top getting to drive two extreme, dream machines around a race track? As it turns out, being one of the first people in the world to experience the mental Veneno hypercar being driven by an expert driver definitely qualifies!
The Veneno is a Rs 50 crore car (with duty) based on the Aventador. Only four were made of which three are sold to private owners while this one belongs to Lamborghini.
Yes, you read that right. I am not just one of the first people to see the Veneno in action on a track, I'm also one of the precious few to get to sit in the passenger seat. All while Lamborghini chief tester, Giorgio Sanna, a man who knows the Veneno better than anyone on this planet drove it like he stole it. And that would be the Grand Theft Auto of all time. This car is supremely rare and would cost an obscene amount of money - about Rs 50 cr (after duties) if it was still on sale! It actually happens to be one of only four cars in existence. Three cars were immediately accounted for by private buyers while this one belongs to Lamborghini. Now you get just how big a deal this is. Any sane auto maker would have this prized creation hermitically sealed off in a museum somewhere but this is Lamborghini we're talking about. The masters of insanity. Which is why they thought it would be a great idea to make the car's dynamic debut on a very cold and dangerously wet race track.
We got a taxi ride in the Veneno, driven full throttle by the car's lead tester Giorgio Sanna
Let me put it into perspective just how awful the conditions were. This was my first opportunity to drive a Lamborghini and I was very seriously considering giving it a pass. Why was I about to chicken out? Well for starters it had been raining all weekend and the track was full of standing water. To make matters worse the mercury was hovering below 4 degrees and I hadn't dared ask what the track temperature was. My shoes were soaked and my toes and fingers were frigid. And I was about to take on a collective 1270PS in a dangerous and unknown environment.
The 750PS Aventador based V12 screams its way to the 8000-odd rpm red line and sounds even louder than the race Gallardos.
Obviously, I manned up and set out in the track focused 570PS Gallardo LP 570-4 Performante. 30 seconds into the first lap and I'd already scared myself silly. The car was rock hard, pin sharp and had a distinct dislike for standing water. And it wanted to spin up all the time in any of the first three gears. Thank God for four-wheel drive! By the end of the second lap I was getting used to the razor sharp throttle response and twitchy handling in the wet but it was time to jump into the big daddy. The ferocious 700PS Aventador is easily the most powerful car I've driven and felt ridiculous in every way, whether it was the sheer size of the thing, the screaming banshee of an engine or the violent gearshifts. Two laps later I awkwardly got out through the scissor door feeling more alive than ever, but even more excited about what was to come next.
What immediately put the Veneno into perspective was the way Sanna floored it as soon as we were out of the pit lane. The sheer rarity, nay, pricelessness of this car wasn't slowing him down a bit. Where I was gingerly feathering the throttle and still having the Aventador violently twitch on the drenched track Sanna had hit fifth gear and crossed 200kmph with a violence that I will never forget. I have been on a fair amount of taxi rides with top drivers in very powerful cars but nothing comes remotely close to this.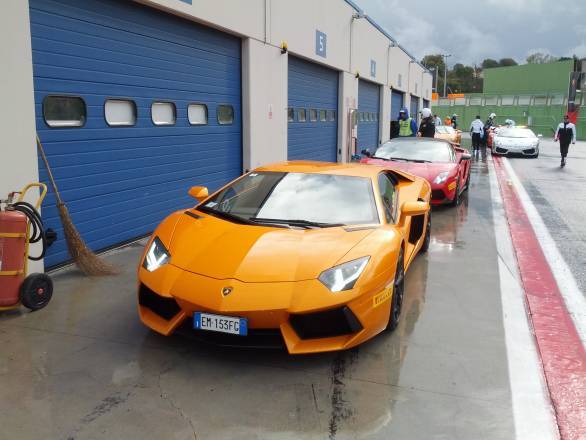 We were given an Aventador and a Gallardo to drive around a very wet Vallelunga track in Rome
The 750PS Aventador based V12 screams its way to the 8000-odd rpm red line and sounds even louder than the race Gallardos. Blood curling would be an apt description. And then there's the mid corner grip. The Veneno doesn't just look like a race car with lights; it is one. Sanna wasn't letting off in the corners, splashing through puddles to find apexes and controlling a slithering monster on exits. All I could do was sit in the passenger seat with a massive smile masking my sheer disbelief. The 4.1km lap was over in a flash and I emerged with more adrenaline coursing through my veins than when I had driven the Aventador myself. I entered the Veneno thinking that it was simply an outrageous creation. I got out in complete awe of its outrageousness. As I write this it dawns on me that very few folk will ever experience what I have – this car will eventually be preserved for eternity. I can vaguely hear the editor incredulously (and with poorly masked jealousy!) tell me how lucky I am. I've meanwhile drifted off into another zone. It's time to thank those stars again.
Click image below to view full photo gallery
For full image gallery, click image