Lamborghini unveils the Huracan Evo
Lamborghini has unveiled a version of the Huracan supercar, termed the Huracan Evo. As the suffix suggests, this is not a complete rethink of the brand's most popular model after the Urus but an attempt at updating the package to make it that much more cutting edge.
The Huracan Evo gets a few minor updates to its styling. The basic shape remains unchanged but it now gets a new more aggressive bumper which highlight the y-motifs seen across Lamborghini's cars. There are now two ridges which run along the bonnet, a Countach inspiration. Also new are the hexagonal air intakes on the side and the high-mounted twin-exhausts which are reminiscent of the the race-spec Huracan GT3. All of these new bits are functional, Lamborghini claims the Evo improves downforce and aerodynamic efficiency more than five times over the first generation Huracán. The Evo also gets a new 20 inch Aesir alloy wheel design and a new Arancio Xanto paint option. The Evo can also be configured under the Ad Personam programme which offers bespoke styling and trim options for buyers.
This theme of minor, effective changes follows in the interior too. The biggest addition here is the new 8.4 inch vertically stacked touchscreen infotainment screen. Other than the usual function of such systems like controlling the climate, seats and drive modes, an optional dual-camera telemetry system is also available. Other new touches on the inside are the new mix of Alcantara and leather trim, with matching body colour accents. This can abe configure in numerous ways, carbon forged composites and Lamborghini's patented Carbon Skin are available on request.
Mechanically, the Evo gets the 5.2 litre naturally aspirated V10 in the same spec as the Huracan Performante. This iteration of the motor gets titanium intake valves and a lightweight exhaust system. This makes 640PS and 600 Nm, up around 28PS from the standard Huracan. This is paired with a seven-speed dual clutch automatic and an all-wheel drive system. Other notable performance enhancements are the addition of rear-wheel steering function, a new ECU has also been added called Lamborghini Dinamica Veicolo Integrata (LDVI).
The Huracan Evo has a top speed upwards of 325 kmph. It gets from 0 to 100 kmph in 2.9 seconds and from 0-200 km/h in 9.0 seconds. Braking from 100 km/h to 0 is achieved in 31.9 m.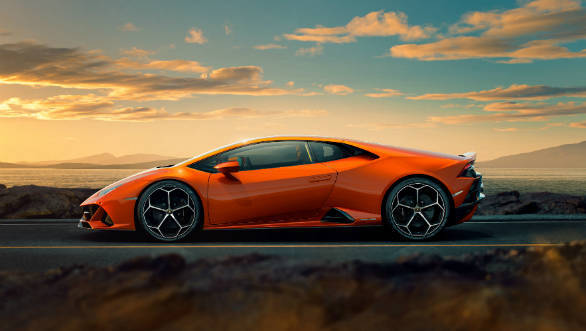 The Huracan has been on sale for five years now. This is a long time in the hypercar game, but these new changes seem to point in the right direction. Many of these have been derived from the well-regarded Performante and should make the Huracan a sharper prospect. Deliveries of the 2019 Lamborghini Huracan Evo will being between March and June.
Price (Ex-Delhi)
Starts Rs 3.21 Crore