Lamborghini reveals the track-only Essenza SCV12, limited to 40 units
It's another week and another outrageous Lamborghini. Hot on the heels of the ultra-rare Lamborghini Sian Roadster and the Aventador SVJ Xago Edition, the supercar maker from Sant Agata seems to have saved the best for last. The Lamborghini Essenza SCV12 is a hypercar reserved for track-only use and features the most powerful naturally aspirated V12 ever developed. And like all other Lamborghini special, it will be extremely rare with only 40 being built.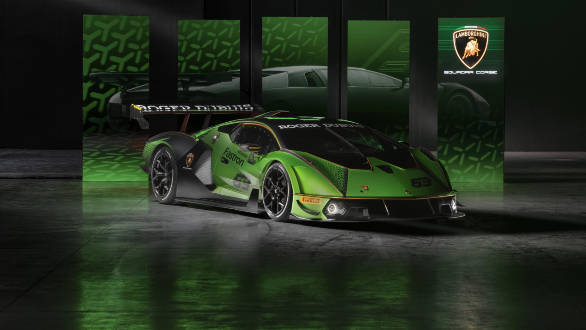 Even without the supercapacitor mild-hybrid assistance, the Essenza SCV12 outdoes the Sian, making 842PS to the latter's 819PS. The power jump from the 785PS that this motor makes in the Sian comes via the new Ram air intake that allows for greater dynamic air pressure being fed into the engine. A new exhaust system from Capristo releases more power by reducing back pressure. This has also given the Essenza SCV12 its unique soundtrack. A new X-trac sequential six-speed transmission has been fitted as well. This acts as a structural element in the chassis and has brought about better packaging and more stiffness. The engine developments have given the SCV12 a power-to-weight ratio of 1.68PS per kg.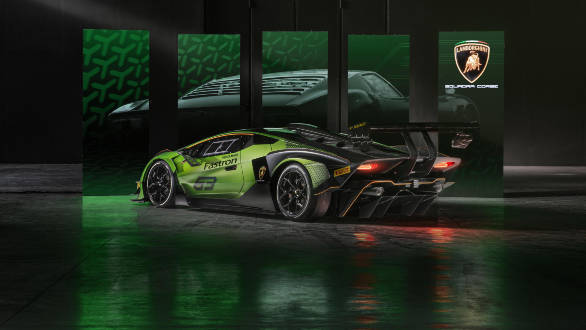 The hypercar is more agile now through a push-rod rear suspension that has been installed directly on the gearbox. The motorsport-derived tech comes from Lamborghini's Squadra Corse racing division, who have also added bespoke Pirelli slicks on new 19-inch magnesium wheels at the front and 20-inch ones at the rear. There are new discs and callipers from Brembo as well.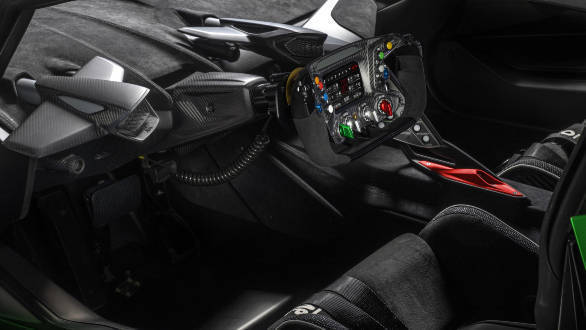 The Lamborghini Essenza SCV12 follows the retro-inspired, hexagonal styling theme being incorporated into all new Lamborgini specials. The Y-themed elements also make their way here. The bodywork is entirely new, and astonishingly, is one made up of three elements to enable quick replacement during pit stops. These sit on top of the carbon-fibre monocoque chassis. The low snout in the front houses new hexagonal LED headlamps, between which sit a splitter. Beyond this are two air intakes, derived from the Huracan GT3 racer. These expel hot air from the radiator and direct more air to the new roof-mounted ram-air intake. The massive sills on the sides enhance engine and gearbox cooling. The rear is highlighted by the two-part spoiler, and the large diffuser, separated by some deep-set tail lamps and exhaust outlets. There is a heavy dollop of hexagonal styling elements and Y patterned livery. There are Verde Silvans, Grigio Linx, Nero Aldebaran Gloss and Arancio California livery options with branding from Squadra Corse's partners: Pertamina, Pirelli and Roger Dubuis. The aerodynamic bits have drawn heavy inspiration from  Huracán Super Trofeo EVO and GT3 EVO and generate 1,200 kg at 250 kmph
On the inside there is an Y-shaped carbon element that acts as a structural component. It also supports the instrument panel and dashboard. There's also an F1-inspired steering wheel and an FIA homologated OMP seat with a carbon shell.
Buyers of the Lamborghini Essenza SCV12 will also have access to special programs where they can drive their hypercar on the most prestigious circuits in the world. They will also have access to a storage service in a new hangar built in Sant'Agata Bolognese for the Essenza SCV12 club. Each car will have a personalized garage and dedicated services. Through this, customers will be able to monitor their cars 24 hours a day using an app with a webcam feed. Athletic training programs similar to those followed by the official Lamborghini racing drivers will also be offered.
A series of arrive-and-drive events on FIA Grade 1 homologated circuits will begin in 2021. Owners here will be assisted by Squadra Corse technical staff. Emanuele Pirro, five-time winner at Le Mans and Marco Mapelli, Lamborghini Squadra Corse's factory driver will also be present.
Price (Ex-Delhi)
Starts Rs 4.78 Crore