Lamborghini opens showroom in New Delhi
Lamborghini has opened a showroom in New Delhi, its second dealership in India. Lamborghini Delhi, spread over an area of 4000 sq ft, was completed in a span of six months and is located at Mathura Road. The dealership will offer the entire range of Lamborghini products including the recently launched (in India) Aventador Roadster LP 700-4 and the Aventador. Also on display will be the Gallardo family - Coupe, Spyder, Superleggera, LP 560 4 and Edizione Tecnica.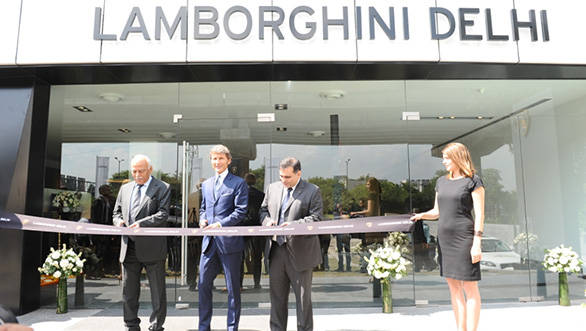 President and CEO of Automobili Lamborghini S.p.A. Stephan Winkelmann, along with the Lamborghini Delhi dealer principal Radhe Kapur and Yadur Kapur at the inauguration of Lamborghini's new dealership in New Delhi
While this is Lamborghini's second dealership in India, China already boasts 19, with six more to be added by year-end.
A press release issued by Lamborghini stated that the it decided to open a showroom in northern India because it boasts the highest density of high networth individuals. Lamborghini plans to expand its footprint in the northern part of India in the near future. But this isn't the first showroom for Lamborghini in New Delhi. It is, however, not clear what happened of Exclusive Motors that was opened in 2011, but it is no longer in business. Lamborghini's first official showroom in India, though, is at Prabha Devi, Mumbai.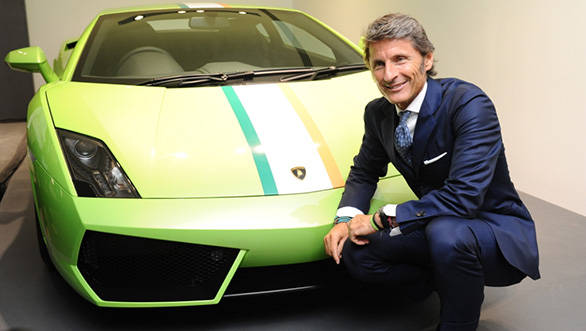 Speaking at the occassion, Stephan Winkelmann, president and CEO of Automobili Lamborghini, said, "Recognising the country's potential; Lamborghini was the first super-luxury sports car brand to establish itself in India. Today, the audience here for Lamborghini is far wider than just its owners. The brand is recognised and appreciated for its benchmark performance, technology, exceptional design and Italian heritage.  India is an important market for us. Hence we are looking at expanding our network and continuing our success and commitment in India."