Lamborghini India to launch the Aventador SVJ 63 in January 2019
Lamborghini is all set to launch the new Aventador SVJ 63 in India, in January 2019. This limited edition masterpiece from Sant Agata Bolognese is limited to 63 units only and commemorates Lamborghini's founding year, 1963. The car gets exclusive paintwork and extensive use of carbon fibre to distinguish it from the regular Aventador SVJ.
The Lamborghini Aventador SVJ 63 is powered by a naturally aspirated 6.5 litre V12 motor which puts out 770PS and 720Nm. Lamborghini managed to squeeze our more power from the V12 engine by redesigning the intake runners, incorporating titanium intake valves, redesigning the intake ducts and using a light weight exhaust system. The seven-speed auto has now been upgraded to handle quicker shifts. All of this results in a car that sprints from 0 to 100kmph in 2.8s. Lamborghini claims a top speed of 350kmph.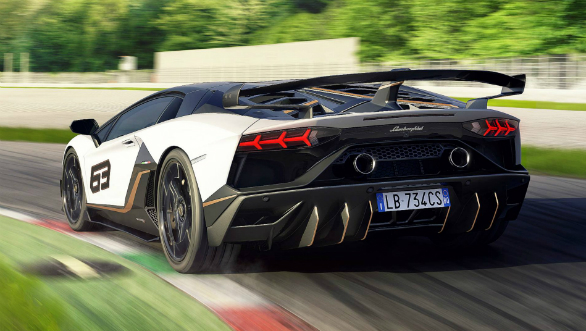 The Aventador SVJ 63 weighs 1,525 kgs, made possible with the carbon fibre monocoque and liberal use of carbon-fibre elsewhere. Lamborghini has also worked on the chassis, stiffening it by 50 per cent. In addition, the SVJ 63 gets stiffer anti-roll bars, firmer magnetic dampers and a reworked rear-wheel steering system.
The Aventador SVJ is amongst the fastest cars to have lapped the famous Nurburgring or the Green Hell as it is popularly known.
The SVJ 63 is truly a collector's item and should figure on the list of those looking to buy an exclusive supercar. Also, with every other manufacturer adopting turbocharged engines, the sound, drama and ferocity of a naturally aspirated V12 engine is one to be cherished.
Price (Ex-Delhi)
Starts Rs 4.78 Crore
Related Stories