Lamborghini Blancpain Super Trofea Asia: Double podium for Armaan Ebrahim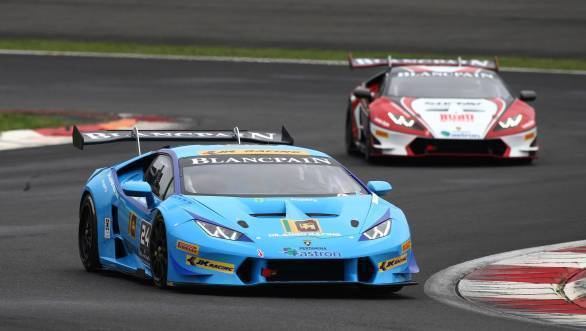 Armaan Ebrahim on his way to a podium at Buriram, Thailand
It was a double podium for Armaan Ebrahim and Dilango Racing team-mate Dilantha Malagamuwa at Round 3 of the Lamborghini Blancpain Super Trofeo Asia series held at the Chang International Circuit at Buriram, Thailand. The duo took third place in race one and finished second in race two.
Armaan had qualified second for the first race, just one tenth of a second off the pole time. He got off to a good start once the race began and went into the lead. From thereon Armaan maintained a one-second advantage over the following pack, until Dilantha took over. However, Dilantha wasn't able to maintain track position, eventually dropping down to third overall. A decent finishing position, given that he was battling a severe case of food poisoning.
In the second race, for which Dilantha had qualified sixth, he was able to gain two places at the race start. He managed to gain another spot when the car ahead of him ran wide, which put him in third. At this point he handed the car over to Armaan at the mandatory pit-stop, following which the Indian racer managed to move into second place after some fast driving. He, however couldn't progress any further.
Reflecting on his weekend, Armaan said: "We were a bit unfortunate in the first race after I came in when in the lead as Dilantha had not fully recovered from food poisoning that had him on the drips. Considering this, we were happy to finish third.
"In race two, Dilantha had to start since he qualified and luckily was feeling better. He got a good start and moved into fourth and after a couple of laps of applying pressure. Dilantha held third for the rest of his stint, but the gap to the leaders was considerably huge. Once I got in, I had to drive like a quali and managed to catch the car in P2 and pass him. I started making time on the leader, but the gap was too big and we ran out of time which meant we finished a strong second."