KYMCO to enter India by 2021, eyeing electric and premium scooter segments
You'd be forgiven for not knowing the KYMCO as a two-wheeler manufacturer. The Taiwan-based manufacturer focuses on scooters primarily and has been doing well in various markets internationally – south-east Asia, Europe as also the Americas. In fact KYMCO is the fifth largest scooter manufacturer in the world. KYMCO will come to India only in the next 2-3 years, given which, awareness about the brand in India isn't too high. OVERDRIVE was a part of the select media group that was in Taiwan to meet Allen Ko, Chairman of KYMCO. KYMCO just to let you know is the short form for Kwang Yang Motor Company. What you also need to know that KYMCO makes engines for BMW and scooters for Kawasaki as well! The chairman confirmed to OVERDRIVE that the brand will enter the Indian scooter market within the next three years considering the immense potential it holds.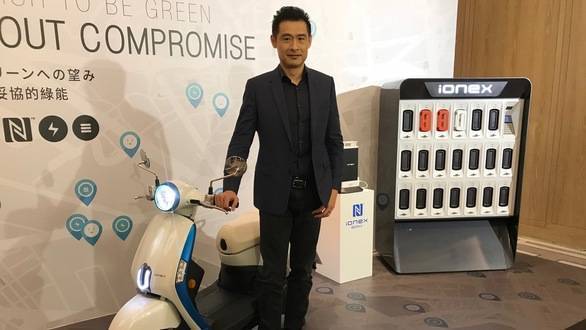 KYMCO Chairman Allen Ko with one of the concept scooters that will use its indigenously developed IONEX platform for electric scooters
Ko in fact stated that KYMCO has been wanting to enter the Indian market for nearly twenty years now and that he is personally in talks with some of the top two-wheeler makers in the country, though he refrained from naming any of them. He says the Indian two-wheeler industry is seeing a radical shift towards the comfort and convenience of scooters from small capacity motorcycles, thanks to higher disposable incomes and Ko feels the time is now right to launch scooters India. Ko is keen on partnering with an Indian manufacturer to understand the market better as he feels that would be a safer bet rather than attempting to launch products directly. Interestingly, the intended focus for KYMCO in India will be the premium and electric scooter space, as Ko is clear that the brand has never chased volumes. There is absolutely no clarity as of now though as to what products KYMCO will bring to India. More importantly, the India announcement comes at the same time as the brand unveiling its IONEX platform.
The IONEX platform offers unique solutions for electric scooters including portable/removable battery packs that weigh just about 5kg apart from the core battery powering the scooter. This effectively means zero wait time for charging, since the core battery will power the scooter even if the auxiliary battery is being charged at a charging station. KYMCO has plans of installing charging stations at public locations such as supermarkets, shopping malls and the like. These stations will also offer users the convenience of renting charged batteries that will be offered on a pay-per-use basis. The whole program will be app-based, and the mobile application will also give information about the nearest charging station, number of charged batteries available there and more.
The KYMCO AK550 is the brand's flagship scooter, powered by a 550cc, liquid-cooled, parallel-twin engine, but is likely to not come to India in the near future
For now it appears KYMCO is yet to decide whether to launch scooters from its existing product portfolio or develop India-specific ones given that it hasn't firmed its India strategy yet, though it appears existing products will come to India first. KYMCO's current portfolio includes a range of scooters across various price brackets, right from single-cylinder engined 50cc ones to twin-cylinder engine powered 550cc ones. Of course, there's a whole lot of 125s, 300s, 400s and electric scooters in the mix as well. The AK550 is the brand's flagship scooter that's powered by a 550cc, liquid-cooled, parallel-twin engine that uses an 8-valve DOHC head and offers 54PS and 55Nm of torque and uses Brembo-sourced brakes including radially mounted, twin petal discs upfront. This should give you an idea of the brand's prowess, though we are nearly convinced the AK550 will not be among the first scooters KYMCO will launch in India. That said there will be enthusiast-centric products, though it is clear that KYMCO will be betting big on the electric scooter market as that's what is sure to gain momentum by the time the brand comes to India. So one can expect a premium, feature-rich electric scooter that will be ahead of the curve around 2020 or 2021 from KYMCO in India.