KTM India confirms 390 Adventure days before BMW G 310 GS launch. What does it mean?
OVERDRIVE and the KTM 390 Adventure go quite a ways back. It was us, in fact, that confirmed that it would be launched in 2019, a world exclusive - although we tend not to lean on ice-creaming every one of our minor and major accomplishments. We'd rather ride than chest-thump. Yesterday, Bajaj-owned KTM India sent out a release confirming that the "Dakar-inspired" 390 Adventure was, in fact, coming in 2019, as we confirmed with KTM at the Intermot show in October 2016.
If you think the timing is suspicious, don't be. Bajaj launched the alloy wheel Pulsar literally the day before the spoke-wheel Unicorn entered India. And now, we are all waiting for the prices of the BMW G 310 R and GS to be confirmed, pre-bookings are already on. Worryingly, BMW Motorrad India dealers are saying the G 310 R is likely to be Rs 3.5 lakh ex-showroom and the G 310 GS will be Rs 4.0 lakh, while the off-road package (spoke wheels etc) will be an additional Rs 50,000. So everyone on our timeline has immediately written off the BMW G 310s. We wanted to look a little bit closer at this.
A prototype of the KTM 390 Adventure spied testing in Europe
The Indian small Adv segment
First, let us understand that as India matures as a motorcycle market, all empty niches will be filled on step at a time. The current flavour of the day is hot chocolate fudge. I mean adventure motorcycles. And initially, the won't be dirt bikes as much as they will be dual sport or travel enduros.
What's coming? The 2018 Auto Expo brought us the first glimpse of the Hero XPulse 200, which promises to be the most affordable of the lot with prices for the 20-odd PS machine likely to fall in the Rs 1 lakh range when it goes on sale before December 2018.
Already on sale is the Kawasaki Versys X-300. India Kawasaki has priced it rather high at Rs 4.6 lakh ex-showroom and that's caused a minor furore already. IKM is throwing in one pannier (the other side is a saree guard) and a set of auxiliary lights but still, that's a high price for a relatively simple motorcycle. Of course, Kawasaki constantly threatens that it will offer the no-frills version at a better cost in time.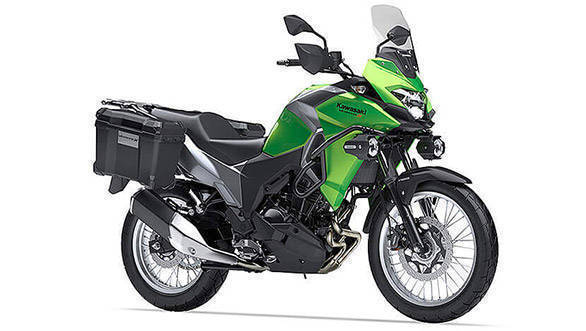 India-built adventure tourer Royal Enfield Himalayan was launched with electronic fuel injection earlier this year, priced at around Rs 2 lakh. The FI part of our wishlist has been fulfilled from the original Himalayan, but it still needs 10 more horses and a healthier sounding engine.
And yes, there is also the Dominar Adv. We are sure Bajaj Auto is working on the adventure platform - because they do work jointly with KTM on the Duke-based machines. Timelines are unknown but we know that Bajaj knows that there is a persistent buzz about the adventure tourer and off-road motorcycle now.
What's a dual sport/travel enduro
Essentially, these are 50-50 on- and off-road motorcycles by design. They'll more or less go anywhere but without the sophisticated suspension that a hardcore off-roader requires. That is the role of the motorcycle, not its visual design, of course. Manufacturers are clever enough now to make the bike look hardcore while carefully designing it to be gentle enough to have road as well as off-road chops.
The price of the KTM 390 Adventure
Obviously, its early days but if you look at the KTM pricing in India you know its going to be good. Prices for KTMs in India have crept up and the Adventure will be the heaviest, physically largest and most expensive of the 390s to be sure. To me that sounds like Rs 3.2-3.4 lakhs ex-showroom maximum, assuming a jump of about Rs 50,000 over the KTM 390 Duke. KTM India could do better and hold the price jump down to within Rs 30,000 or so in a pinch.
The price of the BMWs
The BMW is the smallest member of BMW Motorrad's adventure touring family and apes its elder siblings like the R 1200 GS, F 750 GS and F 850 GS which are on sale in India already
Officially there are no prices. But when you pay Rs 50,000 to a BMW Motorrad dealer, he has to, human tendency, offer you a price ballpark. Our sources uniformly say that dealers are expecting BMW Motorrad to price the G 310 R at Rs 3.5 ex-showroom approximately and Rs 4.0 lakh ex-showroom approximately for the G 310 GS. These are expensive prices to be sure. But remember that BMW Motorrad's network is new so their ability to sell is limited in reach anyway. And BMW carries a very high premium brand value that will support a higher price than KTM, which is considered cheap, effective and slightly better in quality than the average Indian product.
But game over for the 310s no?
Actually, no! Already, you have more or less a confirmed small displacement adv bike segment that spans 200cc/Rs 1 lakh and 300cc/Rs 4.6 lakh. The Hero network is vast and the X-Pulse will be easy to buy and cheap to run. The Kawasaki network is small and their bikes are expensive to own.
In the middle, I expect, will be the KTMs and the BMWs. The KTMs will run closer to the Hero in nature. KTM India has a huge network, spares will be cheap and the prices will be value for money. That's where most customers will go to and spend the money. A quick glance at my twitter and Facebook feeds clearly suggests that the first batch of KTM 390 Adventures will wear a whole bunch of 'press' stickers. Yes, I know they're not legal and my bikes don't have them.
But BMW Motorrad will have queues, wait lists and all the social media anger that comes with a mismatch in premium demand and supply too. The reason is that India is a market with great depth and absolutely massive numbers.
The idea that BMWs pricing will end its sales because KTM has promised a competitor in 6 months is flawed. It's dramatic, sticky and easy to jump to, but it's flawed. It assumes that the KTM customer will consider the BMW before buying and vice-versa. I suspect that at least for the first few years, the people who pay the expected higher prices of the German 310s will never stop to think of the KTMs as an option. And the chaps who want the KTMs for their cheap-cheerful run-ability, will not even visit the BMW showrooms.
Direct competition - as happens in Europe - will come. But not before the market matures quite a bit more. No one's dying just yet. India is just too fertile for that to happen right now.
Price (Ex-Delhi)
Starts Rs 2,85,000
Price (Ex-Delhi)
Starts Rs 2,45,000
Price (Ex-Delhi)
Starts Rs 2,99,000
Price (Ex-Delhi)
Starts Rs 2,52,928
Price (Ex-Delhi)
Starts Rs 2,01,000