KTM CEO reveals sweeping street bike plans for Austrian motorcycle maker KTM and Husqvarna
KTM CEO Stefan Pierer is atypical. While most companies, including his Indian partner Bajaj, tend to shy away from talking about the future, Pierer is quite happy to deliver the essence of his product plan. This is a strangely exciting way to play the game, and it's one of the reasons why KTM is such an interesting brand to track. His latest reveal sets a sweeping stage for KTM's continued evolution into commercially significant maker of street motorcycles. And increasingly, Pierer's own brand, Husqvarna is being readied to flank the Austrian brand with shared engineering but a completely different product plan.
Pierer's latest interview was with British motorcycle news brand Motorcycle News. If you haven't read it yet, find the Stefan Pierer interview in full on MCN at part one and part two.
Let's quickly summarise the main points Pierer made and add to that what we know about these forthcoming KTM and Husqvarna motorcycles. And add just a hint of well-seasoned speculation.
The new KTM 800 twin
"The new mid class is on the way, with the 800, and we will see a naked model first, the Duke – but this will be closely followed by an adventure bike, so the Africa Twin should be aware that a serious competitor is coming! And Husqvarna gifts us the possibility to target a slightly different customer with the new classic style of Svartpilen and Vitpilen, with upright seating positions and cool riding, and using state-of-the-art components."
KTM had spoken earlier about its forthcoming 500cc and 800cc twin cylinder platforms. The discussion around the 500, however, has been very sparse. Could KTM have decided that the gap among the 375cc, 650cc singles and the 800cc twin is too narrow to wedge a 500 in there?
The discussion on the 800 is moving forward. Pierer talks about two machines here. The first is the KTM 800 Duke. We expect this motorcycle to be styled like the ferocious KTM 1290 SuperDuke. Under the sharp Kiska-drawn skin will be the robust new 800cc, 2-cylinder engine, most likely a parallel twin. Given how hard charging the KTMs tend to be, we would expect the 800 Duke to make substantial power and torque from the engine.
KTM 890 Duke Image credit: Motorcycle.com
The KTM 800 Adventure will reveal a milder state of engine tune and draw upon KTM's fertile off-road heritage. We believe that while the 1050 Adventure was ostensibly created to expand the brand into emerging markets, the bike proved to be a bit too expensive and the 800 will solve that problem.
Will it displace over 800cc? It isn't necessary. Bajaj knows that the best way to gain the KTM price advantage we have gotten used to is to assemble rather than import. And in the pursuit of a CKD operation, we are told, homologation cannot be avoided.
The third motorcycle in this discussion is the Husqvarna. A street naked, designed to be easy to ride and styled in that hipster-friendly neo-retro style that we so love on the two 'Pilens.
"KTM and Husqvarna will use common engine platforms, so if you are investing in a new engine platform you are essentially investing in both brands, and then separating them through the chassis and design – but I would say that two thirds of the product development budget goes to KTM, and a third to Husqvarna."
This isn't new information, but Pierer has cleared up how the KTM-Husqvarna and Bajaj are approaching platforms. KTM and Husqvarna will share base engines. They will be tuned differently and run completely different gearing, both in the gearbox and in final drive to achieve role goals. The chassis and design will show greater variation in pursuit of those role goals.
Husqvarna
The Husqvarna 401 Vitpilen, KTM 390 Duke, KTM RC390 and the forthcoming Bajaj CS400 are a good way to understand this approach. All four bikes share the same engine with tuning modsnods as required. All four get significant (CS400 vs Duke) or minor (Duke vs RC) chassis mods to help them focus on the performance attributes of their role.
"We are number one in Europe, but my vision is to overtake Kawasaki and Suzuki in the next five or six years, and that means to get perceived as a full-range sportsbike manufacturer."
KTM testing its MotoGP motorcycle with Thomas Luthi on board
KTM has long ignored the RC8. You could even say allowed it to fester. But that's going to change. KTM is not only readying an all-new RC8 but also intends to offer a 250+PS RC16 for track use only. Timeline isn't known but given that the KTM MotoGP project goes into racing next season, it stands to reason that the new KTM will debut either at Intermot or EICMA this year as a concept or as a production model next year. Expect KTM to leverage the 800 platform to make a mid-range sportsbike that spans the gap between the RC390 and the RC8. But given the state of the mid-sportsbike market, the RC800 isn't going to be a priority project.
"Within the next three years the dealers will get a very nice range. The 701 is closely following [the 125 and 390-engined roadsters expected for 2017], and then the Svartpilen, which is a sort of Scrambler type of bike. There are some rumours that we are already working on a big power cruiser based on a Husqvarna concept, too."
This is huge. The Husqvarna Vitpilen will debut next year in India and globally. This is a confirmation - not that there was a lack of it. The 125 Vitpilen will probably be made at Chakan for export. I say probably because all-new motorcycles are expected for 2017. I am hoping that Bajaj-KTM have found a way to have the new platform to be more cost-efficient to allow the all-new 125s to be saleable in India.
Bajaj's reluctance to offer bigger KTMs will probably prevent them from offering the 701 as well as the spied Diavel-style power cruiser in India. But as Rajiv Bajaj likes to say about his scooter plans, "Never say never."
The Husqvarna 1301 power cruiser
Image credit: Asphalt and Rubber
"In India we are focusing on the small displacements – 125cc up to 400cc, single-cylinder bikes, and the Husqvarna Svartpilen and Vitpilen will also be done in India with Bajaj – because it's the platform, and it just makes sense to build them there."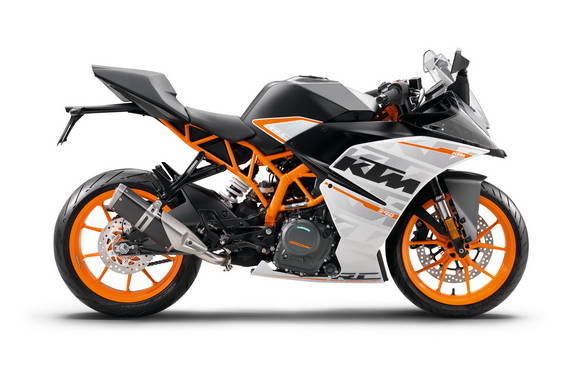 2016 KTM RC390
This is well-known and understood. The only unknown really is what changes the all-new 2017 platform brings and how that changes the motorcycles that are based on it. As we have said before, we expect the 2017 platform to be focussed on creating an adventure tourer or tour-enduro as KTM calls it. Many hope it will be the first motorcycle from the platform. And that includes us.
Price (Ex-Delhi)
Starts Rs 2,52,928