Kia to unveil new Soul EV and hybrid powertrain at Geneva Motor Show 2014
Korean car manufacturer Kia Motors will be showcasing their new hybrid power train and some concepts at the 84th Geneva Motor Show which begins on March 4. Below are the details of the models which are expected to debut.
Soul EV
The production of the Soul EV will start in the second half of 2014. When it is launched it will be Kia's first global electric vehicle offering. The car will be powered by a 81.4 KW electric motor capable of producing 285Nm of torque. Soul EV, Kia claims can run 200 kilometers on a single charge.
There are a number of technologies on the car which help in reducing the load on the battery thereby maximizing drivable distance, they are driver-only ventilation system, four mode regenerative braking and battery heating system.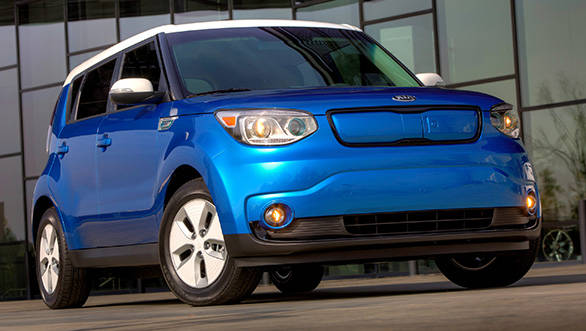 Kia
Kia will also showcase a new hybrid technology which has been developed by the brand's European R&D centre. This system works by connecting a electric motor to a 48V lead carbon battery to increase the engine's power output. There is also an electric supercharger which is powered by the battery and does the job of increasing power and torque at low engine speeds. In ideal conditions and at low or cruising speeds, the hybrid power train can drive the car in electric mode only. The battery is also charged while braking.
GT4 Stinger concept
The GT4 Stinger has been created by Kia's California design team. This 2+2 sports car concept is powered by a 2.0 litre, four cylinder, turbocharged petrol engine producing 315PS. The car has been designed with the driver in mind. It has rear wheel drive and the transmission is a six-speed manual. The front grille sits low to enable efficient engine cooling and cold air intake.
There are currently no plans to put the GT4 to production but expect this design to filter through to future models.
2014 Sportage
The Sportage is the brand's best selling compact crossover. The enhanced Sportage has been designed from customer feedback received and from recent developments in the European markets. The Sportage gets minor exterior changes.
Kia
The new features on this car include LED rear lamps, heated steering wheel, 4.2-inch TFT LCD cluster and Kia's FlexSteer system.
The new Sportage has been designed to be more refined with minimum vibration and noise levels. To reduce noise several steps have been taken like sound proof windshield glass, bush mounted sub frames and new transmission mounting brackets.
Optima Hybrid
The upgraded Optima hybrid car will be produced in Korea from April 2014 and will go on sale by the end of 2014, in left hand drive variants only.
The exterior changes are many. The front bumper is reworked and gets LED fog lamps. The trademark 'tiger nose' grill has also been reworked lending a classy, up market look to the already impressive smooth exterior. New side sills and alloy designs enhance the appeal even more. Two new colour options in the form of smoky blue and aluminium silver are available.
Inside customers will get the 'white package' interior option, which consists of white seat upholstery and black cabin touches.
The new Optima will get Kia's third generation regenerative braking system, new touch screen interface and an optional high tech pack which includes Lane assist, blind spot detection and smart parking systems.
Also see: Kia Soul EV Walkaround Video