Kia Niro EV crossover with 380km range revealed
Kia Motors, which is about to launch its vehicles in the Indian market has debuted it Niro electric crossover at the International Electric Vehicle Expo in South Korea. The Kia Niro EV was first showcased as a concept during the 2018 CES at Las Vegas, US in January. This time around the Korean manufacturer has revealed the production version of the Niro electric crossover and claims some great range per charge. The Kia Niro EV will be available in two battery capacities, with the larger 64kWh battery pack allowing a claimed 380km range from a single charge. There will be another battery pack option with a 241km range, with a reported 32kWk capacity.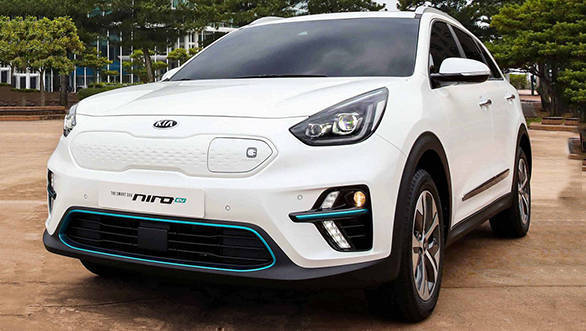 Froma styling perspective, the Kia Niro EV is not much of a departure from its hydrogen fuel cell and plug-in hybrid versions. The big differentiator is that the grille is filled-in, with a parametric design, as an EV has no use for the air intake. Reports suggest that the Niro EV will base its powertrain on the Korean sister concern Hyundai's Ioniq crossover EV, which was showcased at the 2018 Auto Expo in India.
The Niro EV is one of the 16 new electrified vehicles that Kia Motors plans to launch over a period until 2025. Kia states that it has already received 5,000 bookings for the Niro EV in South Korea. Meanwhile, Kia Motors plans to launch five new models in India subsequent to the launch of the production version of the SP Concept SUV which was revealed at the 2018 Auto Expo.