Karun Chandhok's Top 10 2016 Goodwood FOS picks
Karun Chandhok's been driving at the Goodwood Festival of Speed since 2010, when Lord March telephoned him and asked if he'd be interested in taking part in the FOS. Of course, it's a prestigious event, and almost everyone who has the slightest interest in automobiles wants to go visit the Goodwood Festival of Speed. No wonder then, that Chandhok, who in addition to being a racecar driver is famous for being something of a motorsport history nut, readily agreed to it. Since then he's been back at the FOS every single year, dutifully doing runs up and down the Hillclimb. Which means that he's a fairly useful person to have around if you're a Goodwood newbie. Chandhok is quick to point out various cars and drivers, sometimes beside himself with excitement when he's spotted a car that is on his bucket list.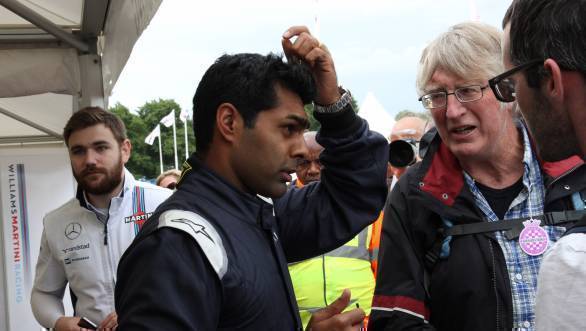 Here's Chandhok talking to some fans at the 2016 Goodwood Festival of Speed. We nabbed him for long enough to get his list of top 10 cars from this year's FOS
Now that the dust has settled on the 2016 Goodwood FOS, we look back at the event through Chandhok's eyes. So here's a list of the top 10 cars that Karun spotted at the Goodwood Festival of Speed and would absolutely love to drive.
Honda RA300: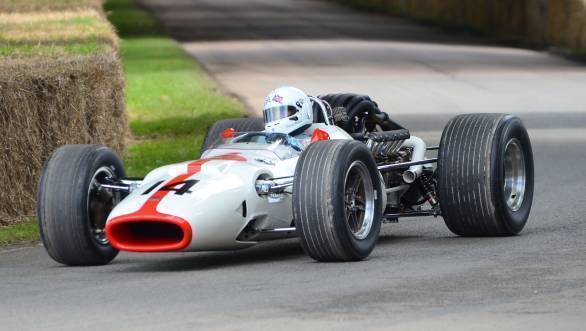 The RA300 - the car that won Honda it's first F1 race on its debut!
This is the first ever car that Honda built to compete in Formula 1 back in 1967. And what's more it won upon debut at the Monza GP that year, ably piloted by a certain John Surtees. Of course, the Lola-chassis RA300 would never lead a grand prix again, but it was at the 2016 Goodwood FOS, where it did multiple runs up and down the hill. Karun's a huge fan of the car and even managed to record footage of the car being fired up, and repeatedly listened to the sound of that V12 engine, and encouraged us to do so too!

Lancia Stratos:
Here's Alex Wurz driving his father's ERC title winning Lancia Stratos
It isn't really possible to be an automobile enthusiast and not fall completely in love with the beautiful Bertone-designed Stratos. Essentially the first purpose-built rally car, the Stratos took three world championship titles, back in 1974, 1975 and 1976. There were two lovely examples on display at the 2016 Goodwood FOS, but the one that caught Chandhok's eye was the 1976 model that Franz Wurz had rallied back in the day, winning the European Rally Championship in it. At Goodwood it was piloted by his son, former F1 and WEC driver, Alex Wurz.
Audi Sport Quattro S1 E2: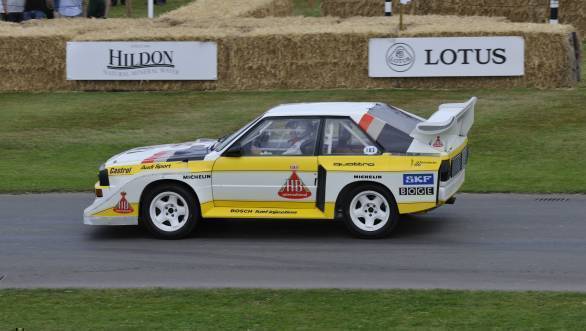 One look at the Audi Sport Quattro S1 E2 and you're back in the Group B era!
Another car that makes rally fans go bonkers is the Quattro. The very sight of that white and yellow livery takes one back to the Group B era of rallying - the most powerful period of the WRC. Chandhok spotted the 500+ bhp Quattro S1 E2 that Walter Röhrl drove back in 1985 to win the San Remo rally. "This is a car I'd really like to drive, but drive properly. So I'd like to do it with someone who knows how to really push the machine. Beyond just driving on dirt."
McLaren Tag/Porsche MP4/2:
Niki Lauda's 1984 championship winning McLaren TAG MP4/2
Now here's a car that Chandhok has been fortunate enough to drive in the past, but would love to drive again. This is the turbo-powered machine that Niki Lauda used to win his third F1 world championship title, and it came powered by an 800bhp Porsche-built TAG engine. "It's a car from the year I was born and the era that I fell in love with F1. Growing up, for me F1 was all about the McLaren TAGs and the Canon-Williams!" Chandhok gushed.
Ferrari 641: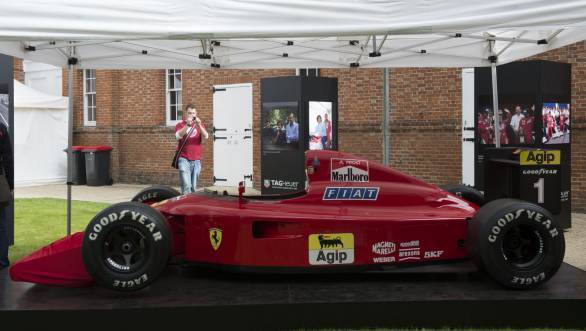 Here's the Ferrari 641, Chandhok's pick as one of the most beautiful F1 cars ever designed. Although this picture is from Goodwood a couple of years ago.
This car wasn't doing runs up and down the hillclimb at Goodwood, however it was there as a static display. Chandhok was particularly pleased about it too. "Two of the most beautiful F1 cars ever built - one is the Ferrari 641 and the other is the Jordan 191." Alain Prost scored five wins in the 680bhp 641 although he lost the title battle that year to Ayrton Senna. Chandhok's also an Alain Prost fan, so we're not really surprised that this is one of the cars on his bucket list.
McLaren-Chevrolet M1B:

Chris Goodwin drives the McLaren M1B Can-Am car at the 2016 Goodwood FOS
Built back in 1966, this 6-litre V8 McLaren Chevrolet M1B was what Chris Amon drove in the Can-Am series that year. Putting it through its paces at the Goodwood Festival of Speed was McLaren's chief test driver Chris Goodwin. Chandhok's been fortunate enough to drive this car already - lucky chap!
Porsche 917 P/A:
The Can-Am Porsche 917 P/A driven here by former Porsche factory driver Brian Redman
Back in 1969, Porsche built the 917 P/A with a 4.5-litre flat-12 engine. It was to be Volkswagen of America's first ever entrant in the Can-Am series and has the distinction of having done more Can-Am races than any other car. Jo Siffert managed to get it all the way to fourth place overall in the series that year. "It has to be on my list, because it's really the car that started it all for Porsche," Chandhok said. Yes, his eyes glazed over a little at this point.
Sauber-Mercedes C9:
This C9 caused such a stir that we got pushed out the way while trying to take a photo, which is why it's so blurred here!
It isn't possible to think of cars that dominated Le Mans and not think of this Sauber-Mercedes C9. It made quick work of its competition in the World Endurance Championship that year too.
Here's a better photo of the Sauber C9 at Goodwood from back in 2012 though
And it clocked 248mph at Mulsanne before the chicanes were introduced at Sarthe. Jochen Mass was driving it at Goodwood, and Karun told us that he's very keen on driving it too! A Group C era car with a 5-litre turbo charged V8. What's not to like!
Brabham-BMW BT52:
The Brabham BT52 that took Nelson Piquet to the title in 1983
The minute Karun mentions this car, his voice takes on a rather conspiratorial tone and he pulls a bag out the hands of his wife and shows me what it contains. It's a limited edition book on this very car that he hopes to get signed by Riccardo Patrese for his personal motoring book collection. The Gordon Murray-designed car was built in 1983 and took Nelson Piquet to a world championship that same year. An iconic F1 car, also a static display at the 2016 Goodwood FOS.
Williams FW08:
Here's Karun in the Williams FW08 that won Keke Rosberg the F1 title in 1982
This right here is one of the cars that Karun happened to be driving at the 2016 Goodwood Festival of Speed and it made it to his list of top 10 cars at the FOS. The car was designed by Patrick Head and it made its debut in 1982. It helped Keke Rosberg to his F1 title that year, and of course, has gone down in history as one of the F1 greats. It's also the car that Jonathan Palmer made his F1 debut in, which is why Karun kindly arranged to have Jolyon Palmer take a picture with it too!