Karun Chandhok back to Le Mans
Karun Chandhok has the distinction of being the only Indian driver to ever compete in the 24 Hours of Le Mans. He first contested the event in 2012 driving for the JRM team in the LMP1 category where they finished sixth overall. Last year he moved to the LMP2 category with Murphy Racing Prototypes, finishing fifth in class. And for 2014, Chandhok has confirmed that he will drive for the same team once again.
"I am very excited to head back to Le Mans for a third time. It's such a hard event to do with over 5000 kilometers of racing through the night but the satisfaction of doing well there in front of such a huge crowd is tremendous, " says Chandhok. And given that the Murphy Prototypes team had a spot of bad luck last year, when an electrical failure led them to lose time during the night, they are hoping to do better this time around. "We know what we have to do to get the maximum from the car, but we need a bit of luck as well, and hopefully the luck of the Irish will be with us ," Chandhok said.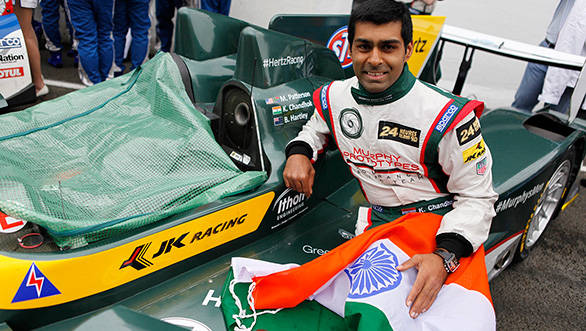 Karun will also compete in a few rounds of the European Le Mans Series with the Murphy Racing Prototypes team, with the 6 Hours of Silverstone being the first event on the calendar for him. While it looks likely that he will do a few more races in the ELMS with the same team, it hasn't been confirmed as to which these races are.
"Murphy Prototypes are absolutely delighted to have Karun back with us again this year. It is a huge compliment to the team that a driver of Karun's experience and background has decided to drive for us again at the legendary Le Mans 24 Hour race. Karun brings speed, consistency and unbelieveable professionalism. He doesn't have an ego which is really critical when you have to share a car with two other drivers and be a real team player," said team owner Greg Murphy.
Karun is one of the many former F1 drivers like Mark Webber, Giancarlo Fisichella, Kazuki Nakajima, Sebastien Buemi and Anthony Davidson, who now are competing in forms of endurance racing.