JK Tyre ties up with Suzuki Gixxer Cup for 2017 season
JK Tyre has tied up with the Suzuki Gixxer Cup with an aim to produce champion motorcycle racers. The company stated in a press release that since they have played a pioneering role in identifying and nurturing India's top racers for over two decades, their new mission is to "churn out world class bike racers for the country."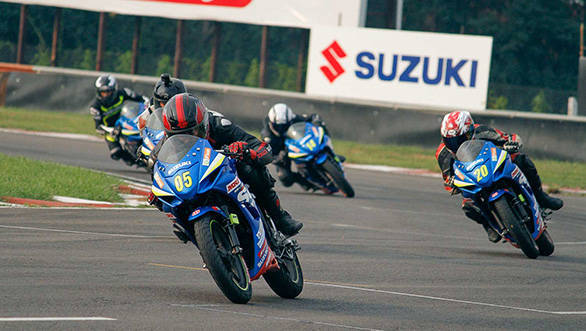 The Suzuki Gixxer Cup, now that the tie up with JK Tyre is in place, will be called the "JK Tyre presents Suzuki Gixxer Cup 2017" and will be divided into two different categories - one for riders in the age group of 12 to 16 years old and the second for riders above the age of 16. The rookie category is also a feeder series for the international Red Bull Road to Rookies Cup. The winner of the series in India will get to participate in the selection programme for the Red Bull Rookie Cup - Road to MotoGP in Spain.
In the main category, which features racers above the age of 16, 25 individuals will make it through the selection process and will compete in the national championship that will begin in Coimbatore in July. Selections will be held in different parts of the country - Bengaluru on June 4, Aizwal on June 10, Pune on June 18th and NRC on June 25. Riders need to register themselves for any of the rounds and be there at the appointed time on the given date. They will be provided with Suzuki Gixxer motorcycles for the shootout. They will also be subjected to a personality test by JK Tyre Motorsport Experts.
The names of the selected racers will be announced on June 27. Following this, they will be trained at Coimbatore in the art of racing in order to prepare them for the NRC.
"In other words, a youngster simply needs to have the talent and the passion for biking. JK Tyre, just like they did for youngsters with karting, and our car and formula racers, we will take care of everything here too. We will even ensure that they are groomed by image managers so that they can appear on world circuits confidently," Sanjay Sharma said.
This is great news for Indian motorsport. We are confident a new breed of motorcycle racers will emerge as a result of this partnership," Mr. Satoshi Uchida, Managing Director, Suzuki Motorcycle India Private Limited said. "Motorcycle racing is an exciting sport and is gaining more popularity amongst the youth. Given JK's dedication to Indian Motorsport and Suzuki's racing spirit & passion, we shall do our best to turn enthusiastic bikers into champions," he added.
Price (Ex-Delhi)
Starts Rs 1,11,871