JK Tyre National Karting Championship: Donison wins Senior Max category at Round 3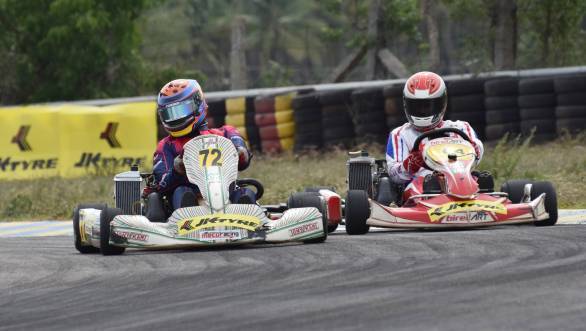 On track battles at the third round of the National Karting Championship
The third round of the JK Tyre-FMSCI National Rotax Max Championship saw Ricky Donison, Manav Sharma and Shahan Ali Mohsin all strengthen their holds at the head of the championship standings in the Senior Max, Junior Max and Micro Max categories of the event respectively.
In the Senior Max category, it was BPC Racing's Donison who managed to win, despite the fact that he only started third on the grid. He had to fend off stiff competition from Meco Racing's Nayan Chatterjee and Vishnu Prasad, with Mohite's Racing's Dhruv Mohite also making things difficult for the Bangalore-based racer. In the end Donison managed to win, with Vishnu Prasad finishing second and Akash Gowda finishing third. This put Donison at the head of the championship standings with a total tally of 252 points, a mere 5-point lead over Vishnu Prasad. Dhruv Mohite trails the championship leader by 9 points.
The winners of the JK Tyre National Karting Championship's second round on the podium
The Micro Max category saw Shahan Ali Mohsin win both the pre-final and final race. Finishing second in the final was Aadityansh Kaulshi, with Kunal Vinod finishing third. Mohsin now leads the championship with a total of 262 points, with Peregrine Racing's Ruhaan Alva second, trailing the championship leader by 16 points, having finished fifth and sixth in the two races.
The Junior Max Category saw Chirag Ghorpade finishing third in the pre-finals, and then winning the final race to move into the top five in the championship standings. The championship leader Manav Arya (who has a total of 257 points) finished first in the pre-finals and only managed to finish second to Ghorpade in the finals. Nirmal Umashankar is currently second in the championship with 248 points.