JK Tyre launches new Ranger series of SUV tyres in India
JK Tyre has launched a new range of SUV tyres, called the Ranger in India. Available in ten sizes, the Ranger series will come in two types, All Terrain (AT) and Highway Terrain (HT). By doing so, JK Tyre aims to serve the two polar ends of the SUV tyre market.
While the AT is aimed at the growing tribe of off-road driving enthusiasts, the HT is aimed at those who use SUVs for driving on the black top. JK Tyre says that the Ranger series of tyres offer superior grip both on and off tarmac. The sidewalls are built to endure the harsh terrain that's usually encountered off road. The company claims that the superior traction and grip on the tyres can stop SUVs from 100 to 0 in less than four seconds.
The company had set up an off-road course to demonstrate the capabilities of the AT tyre and the initial impressions are very positive. The tyre offers good grip on slushy mud and also when driving into and out of deep ditches. The MT tyre demonstration course comprised of a slalom course and a brake test area. The Mahindra XUV500 shod with the JK Tyre Rangers offered good feedback on the tight slalom.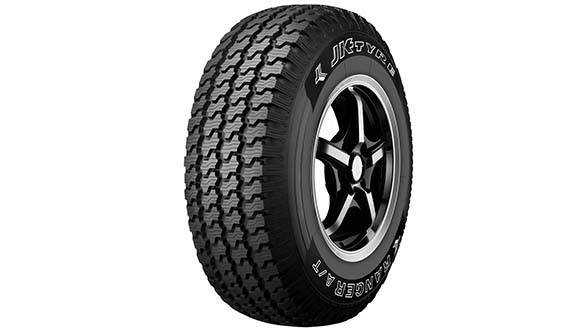 In addition to the Ranger, JK Tyre also unveiled its new high performance tyre, the UX Royale. The company says that the tyre is speed rated from H to V and can handle speeds up to 240kmph. Available for rim sizes ranging from 14 to 16 inches, the UX Royale provides a comfortable ride with low in cabin road noise. JK Tyre says that the tyre's five-rib asymmetric design provides enhanced handling too.
The new tyres will be available across India soon.
JK Tyre launches RANGER – The premium range of SUV tyres
· The all new Ranger Series is a multi-terrain, high performance SUV tyre series, setting a new benchmark for the future of SUV tyre segment in India · Available in two variants, Ranger Series' design ensures best in class braking in most rigorous conditions · JK Tyre launched the Ranger Series through one of its kind experiential off-road drive near Panaji Its full depth grooves provide optimum road contact offering Multi-terrain stability Ranger's uniquely designed sidewalls enable the SUV to run on toughest road hazards with ease and total control Optimised sipe designed tread to improve wear pattern and traction on slippery surfaces. National, India - July 26, 2015 - JK Tyre & Industries Ltd, pioneers of radial tyres in India, launched its exclusive range of highly advanced multi-terrain tyres- RANGER in Panaji, Goa today. With the Ranger series, JK Tyre aims to augment its presence in one of the fastest growing segments in the Indian auto industry i.e. the Sports Utility Vehicle segment. JK Tyre will export the new range of tyres to its international markets. JK Tyre's Ranger Series is designed to upgrade the overall driving experience of SUVs in India. Superior DUAL Tread Compound, in Ranger Series, provides maximum grip & control, to match the power and size of these vehicles. Ranger tyres will be available in two specialised applications, RANGER A/T -for all-terrain performance and Ranger H/T - for tarmac application. The tyres come in 10 sizes and therefore work best with a variety of SUVs available in the Indian market, viz., Audi Q-series Land Rover Freelander, Fortuner, Nissan X-trail, Terrano, Pajero, EcoSport, Duster, and many more. Sharing his views on the launch, Mr. Vivek Kamra, President – India Operations, JK Tyre & Industries Ltd said, "Technology & R&D have been the driving forces at JK Tyre. Aspiring to augment our presence in each and every product segment, Ranger Series is yet another marvel from our state of the art R&D facilities." He also added, "Being a customer centric company, this product reiterates our commitment to identify new and emerging customer needs and proactively introduce technologically advanced products to keep pace with changing market scenario." Ranger Series has been rigorously tested globally by our professional race drivers on various terrains and has been assessed as best in class in handling, grip and braking. JK Ranger AT Series stops within 4 seconds; be it dry road or wet road (Dry road 100 to 0 kmph in less than 4 seconds and for wet roads 80 to 0 kmph in less than 4 seconds). The Ranger tyre series was launched at a unique experiential off-road drive along with JK Tyre Off-Road Expo which was attended by thousands. With this experiential launch, JK Tyre added another feather to its cap by putting it up for experience before the commercial launch thus demonstrating the potency of its extremely high quality range. In addition to focusing majorly on India, JK Tyre is also considering organic and inorganic growth in the emerging markets of South-East Asia. The company currently has 9 plants across India and Mexico with an annual capacity of around 20 million tyres. JK Tyre is committed to growing its footprint in new geographic regions across the globe. About JK Tyre & Industries Limited: Part of the JK Organisation, JK Tyre & Industries Ltd is a leading tyre manufacturer in India and amongst the top 25 manufacturers in the world with a wide range of products catering to diverse business segments in the four wheeler automobile industry. JK Tyre has global presence in 100 countries across six continents with six plants in India and three in Mexico. Currently, the capacity across 9 plants exceeds 20 million tyres per annum. JK Tyre pioneered radial technology in India way back in 1977 and today is the leader in Truck Bus Radial segment. With over three decades of technological innovation, JK Tyre offers tyres for the entire range - Truck/Bus, LCV, Passenger Cars, MUV and Tractors. The company is the manufacturer of India's largest OTR Tyre weighing 3.7 tons and 12 feet high. JK Tyre is a preferred supplier to the automotive Original Equipment Manufacturers and is a partner to some of the biggest names including Maruti Suzuki, Tata Motors, Honda, Ashok Leyland, Mahindra & Mahindra, Volvo Eicher, General Motors, Volkswagen, Fiat, Nissan, TAFE, BEML and Caterpillar India. JK Tyre has been ranked no.1 for the third time in the J.D. Power Asia Pacific's study on Customer Satisfaction. In India, its nationwide network comprises of 143 selling locations, 4,000 dealers and over 120 retail outlets branded 'JK Tyre Steel Wheels', which are equipped with state-of-the-art wheel servicing equipment. It has also established 17 Truck Radial Tyre Care centres, which operate along all major National Highways on 365 day, 24x7 basis. JK Tyre has established over 16 truck radial total solution showrooms branded "Truck Wheels". It was the first to introduce unique concepts like "Dial-a-Tyre" and is the only tyre company to launch a 24x7 on-road tyre assistance initiative called "Fix-a-Tyre". JK Tyre actively promotes various disciplines of motorsports in India and has invested enormous resources towards building its infrastructure. The Racing and Karting programmes are the breeding ground for the country's young motorsport talent and JK Tyre prodigies like Karun Chandhok, Armaan Ebrahim and Aditya Patel have done India proud in the global arena.
Price (Ex-Delhi)
Starts Rs 12.23 Lakhs