JK Tyre launches 10 new products in India
As per its expansion plans for India, JK Tyre & Industries Ltd. has introduced 10 new products for passenger cars, truck and light commercial vehicles. The products launched include ultra high performance luxury cars tyres called UX1 and fuel-saving tyres for hatchbacks called Ultima NEO.
There is also the Ultima Sport, which the company claims, improves brake performance at high speeds.
A K Bajoria, president, JK Tyre & Industries Ltd, with the newly launched range
In the commercial segment, JK Tyre has launched tyres that the manufacturer says will help reduce operating costs for truck and bus operators. For the LCVs, there are JET R MILES and JET XTRA, which claim to improve mileage owing to specially designed rib and step designs. Road biased tyres for trucks and buses include JET XTRA LOAD and JET TRAK 39 XTRA, claiming to push load carrying capacity thanks to their build quality. Radials for buses and trucks include JETSTEEL JDC3, JETWAY JUH4 and JETWAY JUC3. These claim to improve stability and traction owing to their construction and tread pattern.
With these launches JK Tyre plans to increase its turnover by Rs 300 crore. In addition to focusing chiefly on India, it is also considering organic and inorganic growth in the emerging markets of South-East Asia. The company currently has nine plants across India and Mexico with an annual capacity of around 20 million tyres.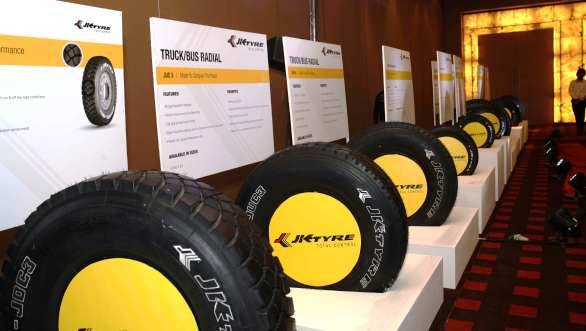 With these launches JK Tyre plans to increase its turnover by Rs 300 crores
"The automotive market in India continues to offer promising opportunity for growth to all and with the launch of this new range, we are hopeful of increasing our market share in high-performance tyre segment significantly. The new range also comes as an aggressive move towards our expansion plans for India which has an earmarked apex of Rs 1,430 crores to increase our truck and bus radial capacity by additional 8 lac tyres per annum and car radial capacity by another 20 lac tyres per year at Chennai," said A K Bajoria, president, JK Tyre & Industries Ltd.
"JK Tyre has consistently focused towards extensive R&D and technological innovation to develop products in response to customers' needs thereby offering a compelling proposition. Safety, durability, fuel efficiency & handling figure amongst the key decisive factors for Indian drivers while buying tyres. With our new offering we aim to deliver that to the customers and we will continue to strive towards developing products that address customer needs," said Vikram Malhotra, VP - sales, JK Tyre & Industries Ltd.