Jeep Renegade SUV facelift to be unveiled tomorrow in Italy
Jeep will reveal the facelifted Jeep Renegade small SUV tomorrow at the Turin Motor Show in Italy. This will be followed by a more detailed presentation later in the month. As a build-up to the unveil, Jeep has released a teaser image showing the Renegade's new tail lamp design. The taillamp gets minor changes in its detailing like a new red surround and a redesigned reverse light.
These spy photos also show the changes to the facelifted Renegade to be quite subtle. Only the front fascia and rear bumpers should see tweaks, the side profile will remain unchanged. So reprofiled headlamps, a new lower intake design, new bumpers are some of the exterior changes that can be expected.
Engine options for the European-spec Renegade will likely include three and four-cylinder powertrains like a 1.0-liter three-cylinder engine making about 120PS, or a 1.4-liter motor making anywhere between 150PS and 180PS.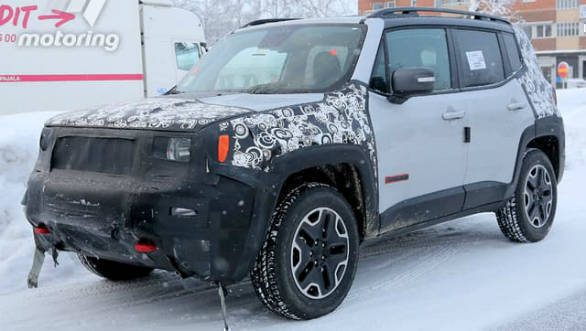 In the five year plan that Jeep and other FCA brands presented recently, a new sub-four metre car is in the works for India in the coming few years. The Renegade, when launched in India, will sit above this SUV and will compete with the like of the Hyundai Creata. Presently, the Renegade is the smallest SUV in Jeep's global line-up but a new model will be unveiled internationally to sit below it.