Jeep Compass 4xe and Renegade 4xe hybrid SUVs unveiled in Europe
Jeep has unveiled the hybrid versions of the Jeep Compass and smaller Jeep Renegade SUVs. These are being called the Jeep Compass 4xe and Jeep Renegade 4xe. The brand claims that these electrified models have not diluted Jeep's off-road credentials. Both SUVs use a PHEV drivetrain with one of its two electric motors on the rear axle. This has improved torque delivery, without the need for a driveshaft.
The Compass 4xe and Renegade 4xe are both powered by a 1.3-litre four-cylinder turbo-petrol motor that either makes 130 or 180PS and 270 Nm of torque. This unit pairs with two electric motors. One of these motors is to the engine on the front axle and can handle functions like coasting, energy recuperation and the start/stop system. The other one is placed on the rear axle and powers the two rear wheels. This motor also features a reduction gear and integrated differential. The rear motor makes 60PS and 250 Nm and is fed by a 11.4 kWh lithium-ion battery placed under the floor. On an average, the fully-electric range is 50 km. The total system output is 190PS(Limited) or 240PS(Trailhawk and S). The 4xe models have a top speed of 130 kmph in electric-only mode or 200 kmph in hybrid mode, while 0 to 100 kmph comes in around 7.5s. Two wallbox charging options are available that take with 5 hours or 1h 40m.
This PHEV drivetrain has been tuned to ensure that the electric motor is always providing traction, especially in off-road situations. There is a new six-speed automatic and the terrain modes from the other Jeep models, auto, snow, mud/sand, and rock, continue in the 4xe versions too. The 4WD lock, 4WD low and hill-descent control functions remain even in hybrid form. Further, the Compass and Renegade 4xe exclusively get a Sport mode for enhanced throttle response and steering.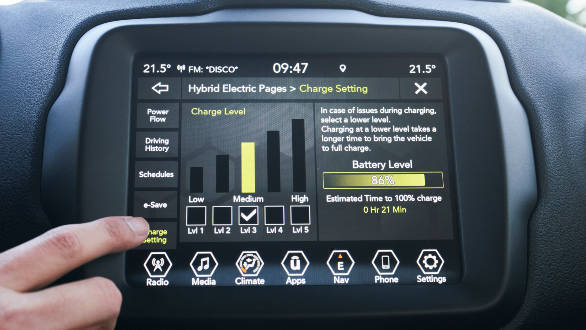 The Compass and Renegade 4xe come in the top Limited, Traihawk and S trim levels. These models get blue highlights on the Jeep badge, nameplates and 4xe badging. On the inside, there are gloss black accents on the air vent, speaker, and center console bezels on the Limited and S trims, while the Trailhawk trim replaces this for red ones. There is a suite of connectivity options on offer, including Jeep's connected car tech known as U-Connect Services. A Go 4xe Live app will also give drivers data on how they managed energy consumption on their trips. Other than this equipment levels remain similar to what we have seen on the Jeep Compass in India.
The Jeep Compass 4xe and Renegade 4xe SUVs will be launched in Europe in September. The high pricing of these PHEV models will rule them out for the Indian market most probably. Instead, we can expect a seven-seater version of the Compass to come along with the facelift in early 2021.
Price (Ex-Delhi)
Starts Rs 17.79 Lakhs