Jawa and Jawa Forty-Two online bookings to close on December 25, 2018!
That the all-new Jawas will elicit a huge response from old and young enthusiasts alike was a given. But Jawa Motorcycles certainly didn't anticipate the kind of response the Jawa Jawa and Jawa Forty-Two have garnered, considering that both motorcycles are sold out till September 2019! Jawa Motorcycles has communicated that the number of bookings received online for both bikes were unprecedented, as result of which, online bookings will be closed at midnight on Christmas that is tomorrow, December 25, 2018. For the motorcycles booked already, Jawa Motorcycles will inform customers directly about their waiting period. Jawa also tells us that if you book your motorcycle by December 25 (tomorrow), it will try to deliver your bike by September 2019. So if you are still mulling getting one for yourself anytime soon, now is the time to make the decision unless you are okay with waiting for almost a year!
Online bookings for the Jawa and Jawa Forty-Two will be closed at midnight on December 25, 2018 owing to the unprecedented response to both bikes
However, you can still walk into any of the Jawa dealerships and make a booking. Irrespective of whether you make a booking online or offline, expect huge waiting periods though – deliveries are scheduled to begin only in March 2019, which means you are looking at a waiting period of over three months for either motorcycle. As of today, Jawa Motorcycles has ten functional dealerships already – two in Pune, three in Bengaluru and five in New Delhi and more dealerships are expected to open their doors in various cities soon. Jawa Motorcycles also tells us it will have over 100 functional dealerships across the country by February 15, 2019. The dealerships will also offer test rides of the two motorcycles.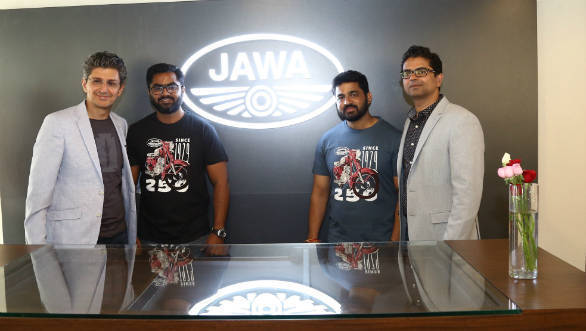 Seen here are Boman Irani (L) one of the founders of Jawa Motorcycles and Ashish Joshi (R) CEO, Classic Legends, who have launched the Jawa brand in India at Jawa's first dealership, in Pune.  As of today Jawa Motorcycles has ten operational dealerships - two in Pune, three in Bengaluru and five in New Delhi. You can still walk into any dealership and book a motorcycle for yourself, but expect HUGE waiting periods
The bikes will be manufactured at Mahindra's production facility at Pithampur near Indore in Madhya Pradesh, but the manufacturer is yet to reveal its production plans. In fact, regular production of the motorcycles is yet to commence, as of today. To remind you, the Jawa and Jawa Forty-Two are both powered by the same 293cc, 27PS single cylinder engine and are priced at Rs 1.64 lakh ex-showroom and Rs 1.55 lakh ex-showroom respectively. Jawa will add a third motorcycles to its line-up, the Jawa Perak, sometime in 2019 which will use a bored out version of the engine to offer 30PS and 31Nm and will be priced at Rs 1.89 lakh ex-showroom.
Also Watch:- Jawa Jawa and Forty-Two | First Ride Review Video
Also see: Jawa Forty Two | Road Test Review