Jaguar XE SV Project 8 teased
When we witnessed the development of the Jaguar XE a few years back, we had a hint that the saloon's benchmarking alongside the F-Type promised more than just sensible Ingenium engines and sporty dynamics fit to rival the 3 Series. The latest teaser from Jaguar confirms just that. The camouflaged car you see in the imagery is the Jaguar XE SV 'Project 8', which is headed for its debut at the upcoming 2017 Goodwood Festival of Speed.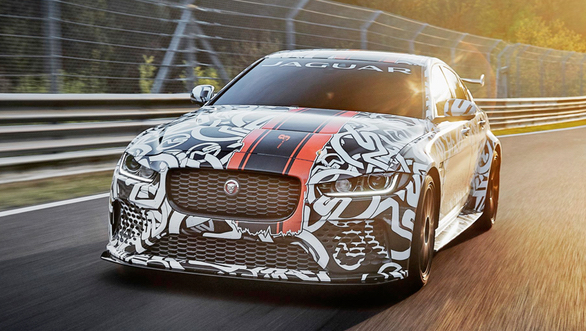 When Jaguar drops the word 'Project' into any of its model names, you can rest assured that the result will be a madcap car designed to shred rubber on the track. The 'Project 7' did it for the F-Type and the 'Project 8' succeeds the legacy with the XE. Plonking large engines into its saloons isn't an unusual feat for the leaping cat, but this time the car also claims to be the most powerful Jaguar ever built. Motivation for XE SV Project 8's claim comes from a 5.0-litre supercharged V8 petrol, and the blokes at J-LR's special operations arm (SVO) have managed to tune it to produce 600PS of power!
Jaguar is keeping the performance figures and price tag close to its chest until the official unveiling at the Goodwood Festival of Speed which gets underway on June 28. But the carmaker confirms that the Jaguar XE SV Project 8 will be a collector's edition that will be limited to 300 units and will bear a price tag to match its limited numbers. It is a no-brainer that the Project 8 will spawn a less-exclusive performance variant that will be powerful enough to take on the Ms and the AMGs. But if you have the dough and the right strings to pull, you might want to get on to the Project 8's list already. We doubt if there's anything out there that sounds as manic as this one.
Price (Ex-Delhi)
Starts Rs 44.98 Lakhs