Jaguar Land Rover global sales up by 25 per cent in November 2013
Jaguar Land Rover, the UK's leading manufacturer of premium luxury vehicles and a subsidiary of Tata Motors, is moving from strength to strength and has registered a solid growth of 25 per cent in November 2013 as compared to same month last year. JLR retailed 37,403 vehicles in the month.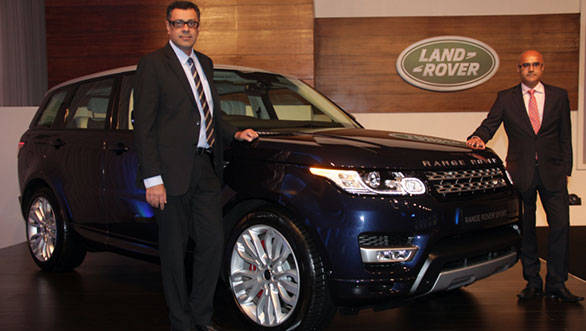 Rohit Suri, Vice President, Jaguar & Land Rover India and Mr. Del Sehmar, Head of PR and Communications at the India launch of the all-new Range Rover Sport.
From January to November 2013, JLR has sold 3,84,339 vehicles worldwide, which is 19 per cent more than it sales during the same 11-month period the previous year.
In November, Jaguar sold 6,244 vehicles up 55% from the same period last year, and Land Rover sold 31,159 vehicles, a growth of 20%.
For November, the China Region saw JLR sales number go up 42%, North America up 37%, Asia Pacific up 32%, Europe up 7%, other overseas markets up 42%, with UK sales consistent with the previous year.
Commenting on the November performance, Jaguar Land Rover Group Sales Operations Director Andy Goss said: "November has been another solid month in what has so far, been a great year for Jaguar Land Rover. Our continued sales success is a testament to our sustained investment in new and exciting products which are driving growth internationally and attracting new customers to our brands."
JLR has been steadily growing for the past few years. In 2012, Jaguar Land Rover sold 3,57,773 vehicles, up 30% from 2011. Of that, Jaguar sold 53,847 vehicles and Land Rover sold 303,926 vehicles.