Jaguar J-Pace flagship SUV to make global debut by 2021
Jaguar Land Rover will unveil a new full-size flagship SUV in coming years. Jaguar recently filed for global trademark for the name J-Pace. This move suggests that the Coventry, UK-based manufacturer has moved closer to the production of this new SUV. Based on the underpinnings and mechanicals from the Range Rover, the J-Pace sports a new form designed by Jaguar design director Ian Callum. The Jaguar J-Pace is likely to make its global debut by 2021. At launch, it will be the fourth SUV from Jaguar in a span of five years, following the success of the Jaguar F-Pace and the introduction of the I-Pace and E-Pace. Based ob its name, the J-Pace is likely to be the SUV equivalent of the XJ luxury sedan in Jaguar's lineup.
A rendering of the upcoming Jaguar J-Pace SUV. Image credit: Automobilemag.com
Jaguar has increased its focus on the SUV segment which will turn out highly profitable and sell in larger volumes. This comes on the back of increasing sale from its first SUV, the F-Pace. The Jaguar SUV lineup is likely to account for two-thirds of its total sales in the next three years.
The Jaguar J-Pace makes sense, then. It will feature an all-aluminium build, and likely use the Range Rover platform, albeit with more rear cabin space, and lower road-biased stance. Powertrains will also likely be Range Rover-based. Jaguar will look to markets where a majority of customers are chauffeur-driven, including China.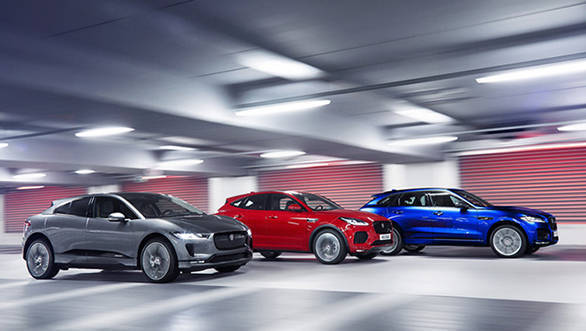 Jaguar has a line-up of three SUVs at the moment - the all-electric I-Pace, the small E-Pace, and the F-Pace
The J-Pace will also tie-in better with the premium luxury brand image of Jaguar. Seeing the recent slew of launches including the Lamborghini Urus, Rolls-Royce Cullinan, Bentley Bentayga, and Maserati Levante, there is definitely a growing space for super luxury SUVs, and Jaguar will a good fit here.
Price (Ex-Delhi)
Starts Rs 3.78 Crore
Price (Ex-Delhi)
Starts Rs 62.17 Lakhs
Price (Ex-Delhi)
Starts Rs 3 Crore
Price (Ex-Delhi)
Starts Rs 1.45 Crore