Jagat Nanjappa and Chetan Changappa to represent India at RFC Global Series Finale
Jagat Nanjappa and co-driver Chetan Changappa managed to impress everyone with their performance at the RFC India 2017. The duo finished second overall in the event, and will now represent India at the RFC Global Series Finale in Malaysia between the 24th of November and 5th of December.
The RFC Grand Final is the season-ending event of the Global RFC Series, which has 25 editions in countries around the world. India, Australia, Russia, China, Vietnam, Thailand, Sri Lanka, Korea, Myanmar, Ukraine, Balkans, South Europe and North Europe among others.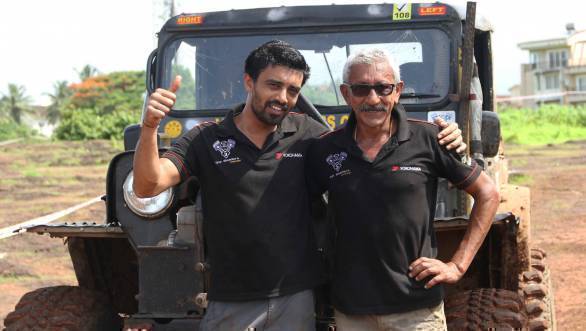 Chetan Changappa and veteran rallyist Jagat Nanjappa will represent India at the RFC Malaysia 2017
Speaking of competing in RFC Malaysia, Nanjappa said, "I went to watch the RFC Malaysia event in 2011 and was amazed by the level of vehicular modifications and equipment at play. After 37 years of racing in India, this is my maiden opportunity to go abroad and compete. I want to put every bit of effort in it and win it for my country. To prepare for the challenges ahead, Chetan and I have adopted a tougher fitness regime, as the competition is going to last for 10 days which is a bit longer than its Indian version. We plan to land there and acclimatisee ourselves with climate & the vehicle a few days prior to the flag-off. We want to stay cool, carefully walk our path and try to clinch a podium finish. Rest, we have our fingers crossed, let's see how it fares out."
Nanjappa will drive a rented modified Jeep, turbo charged with a 2.0-litre petrol engine. The vehicle will be fitted with a mechanical winch instead of an electric winch. Cougar Motorsport, who organise the RFC India, has played a pivotal role in helping Nanjappa realise his dream of representing India at this prestigious international event. The organisation is supporting Team India by sponsoring their RFC 2017 Grand Finale entry ticket worth $3,900 and return airfare to Malaysia amounting to $914. Moreover, Cougar Motorsport is contributing a significant amount towards the cost of hiring ($6,150) the competition vehicle.
Cougar Motorsport's Director, Ashish Gupta said "Ever since we brought RFC to India, I have dreamt of seeing an Indian team emerge as an overall champion at the Global Series Finale. We tasted a milestone victory last year at the RFC Global Series Final with Team India winning their category for the first time ever. That victory said a lot about the massive progress that has been made by Indian offroaders in such a short span since the launch of RFC India. My belief that Indian offroaders are very much capable of giving a tough fight to the international offroaders was strengthened by the incredible performances we witnessed this year at RFC India. I am confident that Jagat Sir and Chetan would deliver an outstanding performance and make India proud at the international offroading stage."
This year, RFC Malaysia will start in Kuala Lumpur and then travel to Pahang. The event will have twenty four Special Stages (SS) that will be divided into four progressively difficult competitive legs - the Prologue, the Predator, the Terminator and the Twilight Zone.
This is the third time an Indian team will take part in the RFC Global Series Finale.