Italian excess for the sea? The twin-V12, 4,000PS Tecnomar for Lamborghini 63 is your best bet
We don't usually roll off top speed specifications for a Lamborghini in knots, but with the Tecnomar for Lamborghini 63 speedboat, that figure stands at an incredible 60 knots, or 111kmph. Built as a tribute to Lamborghinis over the years (notably the concept Terzo Millenio and Sian), by Italian boatmaker Tecnomar (of The Italian Sea Group), the speedboat is the first ever to have the Raging Bull badge on its hull.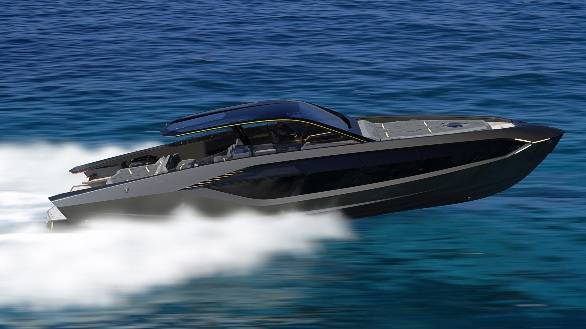 But with styling derived from Lamborghini's hits over the years, it's unmistakeable for anything but a Lamborghini. From the slash of a roof, meant to resemble a modern Lamborghini roadster's, to the smattering of epsilon Y-shaped design elements, the Tecnomar should prove to be a worthy addition to any fan of the Italian marque. Especially considering that the starter controls and steering wheel are lifted straight off a Lamborghini! Carbonfibre seats and Alcantara round off the pilot's perch. Plenty of customisation is available, from multiple exterior colour options and liveries to two versions of the interior/deck.
Speed is the name of the game here, and the Tecnomar for Lamborghini 63 falls square into the luxury speedboat niche, with its twin 24-litre MAN V12 engines pumping out 2,000PS each! Made heavily of exotic carbonfibre, the 63-foot long yacht is a featherweight at 24 tonnes, while each engine surprisingly contributes only about 2 tonnes to that figure. Deliveries are slated to begin in 2021, while numbers will be limited to 63 units.