IRC 2015: Lohitt Urs crowned champion at Chikmagalur
Lohitt Urs and co-driver Shrikanth Gowda took home the win in the FIA Asia Cup at the Coffee Day India Rally in Chikmagalur. This meant that the Mysore-based driver had enough points to clinch the National Championship as well, even though the overall win at the rally went to Gaurav Gill and co-driver Musa Sherif.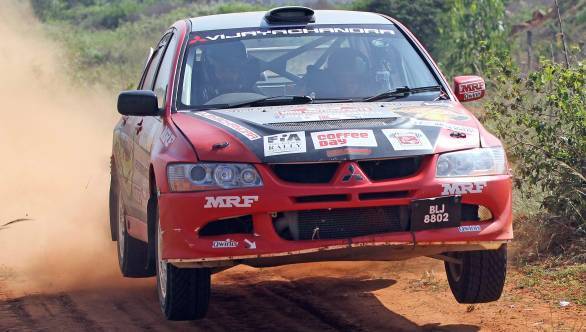 Lohitt Urs and Shrikanth Gowda clinched the Indian Rally Championship title at Chikmagalur
"I am obviously delighted to win the Asia Cup and the National championship. We had some problems with the car early on, but we managed to set things right," said Urs of the terrific drive he made in his Mitsubishi Evo VIII.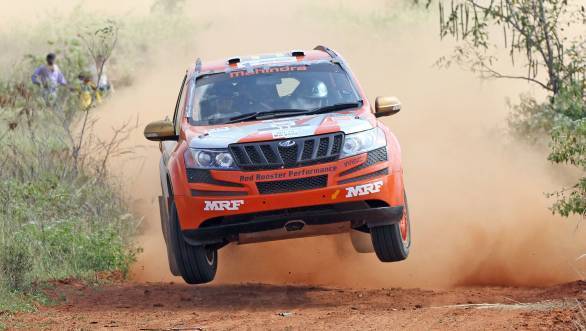 Gaurav Gill and Musa Sherif en route victory at the Coffee Day Rally in Chikmagalur
It wasn't a particularly happy day for Mahindra driver Gaurav Gill. Even though he won the rally in his SuperXUV, he lost the championship title. "It has not been the best of seasons for me with so many non-finishes. I am of course disappointed to lose my National title, but feel good to finish the season on a high. We lost some 40 seconds yesterday due to mechanical problems. However, we managed to put it all behind us and win here."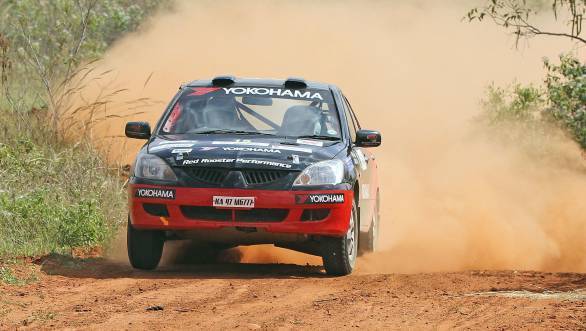 Team Yokohama's Rahul Kanthraj took home the title in the IRC 2000 class
There was good reason to celebrate for Team Yokohama, with Rahul Kanthraj and co-driver Vivek Bhatt winning the IRC 2000 class, and taking home the title win in their category too. For Kanthraj, the year had been good, with the driver winning all four rounds of the IRC in his category.
Karna Kadur and Vivek Ponnusamy won the IRC 1600 title
Team Yokohama's other driver Karna Kadur, navigated by Vivek Ponnusamy, took home the win in the IRC 1600 class, with the title victory too. There was some amount of luck that played a part in Kadur's win, with overnight leader of the class, Dean Mascarenhas (navigated by Shanmuga SN) being given a penalty for an early check-in at a Time Control. This meant that Dean finished second in class. And, with Dr Bikku Babu retiring from the even on Saturday, things were made easier for Kadur. "Not the way I wanted to win the championship with Dr Babu retiring and Dean getting a penalty which helped me. But, it is nice to win considering that we had issues with the car through the weekend," said Kadur.
The three-day event, which was also a contender for a round of the 2016 Asia Pacific Rally Championship, was supported by Karnataka Tourism and Indian Oil.
Provisional classifications:
FIA Asia Cup:
Lohit Urs / Srikanth Gowda (Pvt, Evo VIII) (2hrs, 14 mins, 11.2 secs)
Satyan Kochar / Amit Wagchoure (Pvt. VW Polo) (02:32:13.2)
Pradeep RG / Shekar (Pvt, Evo VIII) 3 (02:37:22.5).
IRC Overall:
Gaurav Gill / Musa Sherif (Mahindra Adventure, XUV 500) (02:06:18.6)
Lohitt Urs / Srikanth Gowda (Pvt, Evo VIII) (02:06:34.2)
Amittrajit Ghosh / Ashwin Naik (Mahindra Adventure, XUV 500) (02:07:08.5).
IRC 2000:
Rahul Kantharaj / Vivek Y Bhatt (Team Yokohama, Cedia) (02:11:16.0)
Younus Ilyas / Paul Thomas (Pvt, Cedia) (02:12:09.4)
Sumit Punjabi / Shahid Salman (Pvt, Cedia) (02:12:44.1).
IRC 1600:
Karna Kadur / Vivek Ponnusamy (Team Yokohama, VW Polo) (02:07:29.3)
Dean Mascarenhas / Shanmuga SN (Pvt, VW Polo) (02:08.08.5)
Bopaiah KM / Karumbaiah KS (Pvt, VW Polo) (02:09:58.6).
FMSCI Cup 1600:
Druva Chandrasekhar / Jeevarathinam J (Pvt, Honda City V-Tec) (02:10: 45.5)
Adith KC / Harish KN (Pvt, Honda City V-Tec) (02:12:46.5)
Michu Ganapathy / Venu Ramesh Kumar (Pvt, Maruti Baleno) (02:15:01.4).
Price (Ex-Delhi)
Starts Rs 10.9 Lakhs