IRC 2015: Gaurav Gill leads the way in Chikmagalur at the end of Day 2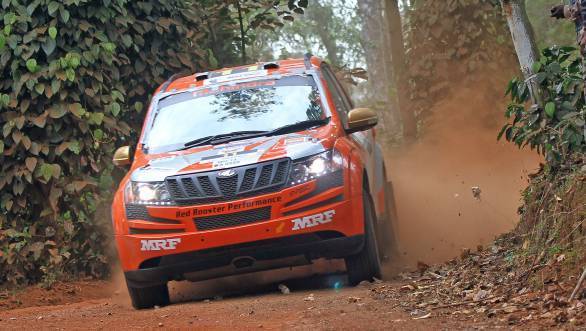 Gaurav Gill and co-driver Musa Sherif top the timing sheets at the end of the second day of the Coffee Day India Rally at Chikmagalur
After tying for top honours with team-mate Amittrajit Ghosh (co-driven by Ashwin Naik), Gaurav Gill and co-driver Musa Sherif took control of the Coffee Day India Rally at Chikmagalur. By the end of the first leg of the event, Gill and Sherif, in their Mahindra SuperXUV had made their way through the challenging and technical Special Stages to top the timing sheets. Their time at the end of the Day was 1hr 58min 18.9sec.
Dean Mascarenhas made it to second overall and heads the IRC 1600 class at Chikmagalur
Finishing second at the end of Leg 1 of the rally was young Dean Mascarenhas, co-driven by Shanmuga SN. Dean, piloting a Volkswagen Polo, looked strong through the day, and ending second on the timing sheets was a good result for the young driver from Mangalore.
Lohitt Urs took the lead in the Asia Cup in his Mitsubishi Evo VIII
Lohitt Urs, navigated by Shrikant Gowda, finished the day third in the Overall standings. Urs, driving a Mitsubishi Lancer Evo VIII, is participating in the FIA Asia Cup that is being run alongside the IRC. Of course, he leads the Asia Cup rather comfortably at the end of the day.
Of the eight starters in the Asia Cup, only four ended the day still running. Arjun Rao Aroor, navigated by Satish Rajagopal, Phalguna Urs, navigated by Anoop Kumar, PG Abhilash, navigated by Rohan Rego and Garima Avatar, navigated by Shrupta Padival, all retired. That meant of the 40 entrants, 11 ended in retirement.
The real battle of the day was fought between Mascarenhas and rival Karna Kadur, navigated by Vivek Ponnusamy, of Team Yokohama. The duo battled hard for supremacy in the IRC 1600 class. Which meant that the fans, the Coffee Day Rally is famous for the number of spectators that manage to make it into each stage, were treated to slides and yumps aplenty from both drivers in their Volkswagen Polos.
Team Yokohama's Rahul Kanthraj consolidated his lead in the IRC 2000 Category
Also impressive were the other duo from Team Yokohama - Rahul Kanthraj and Vivek Bhatt consolidated their lead in the IRC 2000 class, leading from Sumit Panjabi (navigated by Shahid Salman) by over a minute.
Over in the FMSCI Cup 1600 Class, it was Druva Chandrashekar who led the way with navigator J Jeevarathinam beside him. Nearly two minutes behind them were Raghunandan B, navigated by Roopesh Kholay. This means that Chandrashekar and Jeevarathinam look quite strong in terms of their Class title.
Provisional classifications after Day 2:
FIA Asia Cup:
Lohitt Urs / Shrikant Gowda (Pvt, Evo VIII) (1hr, 59mins, 41.2secs)
Satyan Kochar / Amit Waghchoure (Pvt, VW Polo) (02:16:14.7)
Bani Yadav / Sukhbans Mann (Pvt, Cedia) (02:21:36.1).
IRC Overall:
Gaurav Gill / Musa Sherif (Mahindra Adventure, XUV 500) (1hr, 58mins, 18.9 secs)
Dean Mascarenhas / Shanmuga SN (Pvt, VW Polo) (1:59:31.1)
Lohitt Urs / Srikanth Gowda (Pvt, Evo VIII) (1:59: 41.2).
IRC 2000:
Rahul Kanthraj / Vivek Bhatt (Team Yokohama, Cedia) (2:03:38.4)
Sumit Panjabi / Shahid Salman (Pvt, Cedia) (2:05:05.5)
Karan AM / Suraj M (Pvt, VW Polo) (2:07:18.7).
IRC 1600:
Dean Mascarenhas / Shanmuga SN (Pvt, VW Polo) (1:59:31.1)
Karna Kadur / Vivek Ponnusamy (Team Yokohama, VW Polo) (1:59:47.7)
Bopaiah KM / Karumbaiah KS (Pvt, VW Polo) (2:02:05.9).
FMSCI Cup 1600:
Druva Chandrasekhar / Jeevarathinam J (Pvt, Honda City V-tec) (2:03:02.7)
Raghunandan B / Rupesh Kholay (Pvt, Honda City V-tec) (2:05:03.2)
Adith KC / Harish KN (Pvt, Honda City V-tec) (2:05:12.1).
Price (Ex-Delhi)
Starts Rs 10.9 Lakhs
Price (Ex-Delhi)
Starts Rs 6.17 Lakhs