IRC 2014: Samir Thapar leads South India Rally
On the Friday of the AVT Premium South India Rally, the third round of the Indian Rally Championship 2014, Gaurav Gill said that he wouldn't be surprised if the win at the rally didn't go to him. Having completed a recce of the stages, the reigning Asia Pacific Rally Champion, who pilots a SuperXUV for the Mahindra Adventure team, had come to the conclusion that it was advantage Evo at this rally. The stages weren't very technical and were rather fast too, which meant that Samir Thapar in his Mitsubishi Evo X was likely to do well, as was PG Abhilash in his Mitsubishi Evo VI. Gill, it turns out, was right. From the very first special stage, Thapar led the way, with Gill having to settle for second spot at each stage. The day ended with Thapar leading Gill by over a minute and a half.
Samir Thapar airborne during SS4 of the AVT Premium South India Rally - he won all stages on Day 1
But the Stage wins weren't as easy for Thapar (co-driven by GS Mann) as it would appear. "The first stage was fast and very good," the JCT Rallying driver said. "But the second and third stage had lots of tighter sections, with several corner that were hard to tackle, only becoming a little more free-flowing towards the end." Nonetheless, he managed to go into the first service of the day leading Gill (co-driven by Musa Sherif) by around 47 seconds.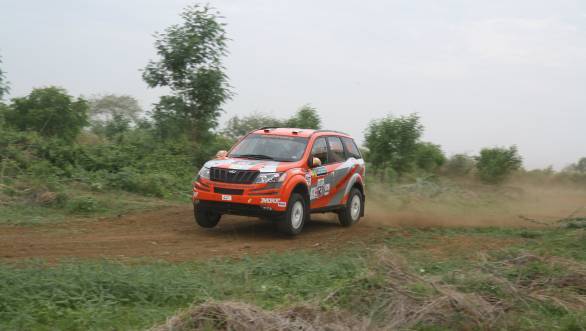 Gaurav Gill's chances of three wins of three rallies seem to be unlikely
Things weren't going entirely smoothly at the Mahindra camp. With Sunny Sidhu not competing in this round of the championship, Karna Kadur was given the opportunity to pilot his SuperXUV, navigated by PVS Murthy. On SS2, Kadur hit a rock breaking the link rod on his car, which put them out of the rally for the rest of the day.
PG Abhilash is currently third in the IRC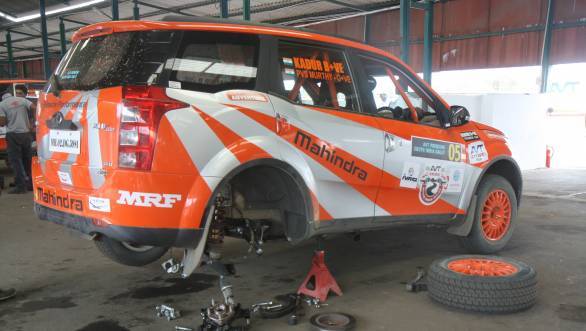 Kadur's car in Service - he will restart the rally tomorrow
2013 Indian National Rally Champion, Amittrajit Ghosh (co-driven by Ashwin Naik) was also having a hard time, having lost time over the first three stages with what appeared to be issues with the engine on the SuperXUV. Things got worse when he rolled during SS5 of the rally resulting in his second DNF in as many events.
Here's Ghosh going sideways during SS3. Unfortunately SS5 saw him crash out of the rally
The battle in the 2000cc category was being waged between Team Yokohama's Rahul Kantharaj (co-driven by Vivek Bhatt). He finished ahead of Prithvi Dominic (Ravindra MS) by 47 seconds.
Aroor will be looking to retake the lead in the 1600cc class from Vikram Devadasan tomorrow
But the most interesting battles in the AVT Premium South India Rally were being waged by the drivers in the 1600cc category. While Arjun Rao Aroor (co-driven by Sathish Rajagopal) headed into the SSS with a slender lead over Vikram Devadasan, things all came undone for him. The rain came pouring down, which meant that they were out on a wet tarmac surface. Aroor lost time, Team Yokohama's Devadasan (co-driven by Srikanth Gowda) gained time, and Phalguna Urs closed the gap to them. As we head into Day 2 of the rally, Devadasan has a 6 second advantage over Aroor, with Urs (co-driven by Anoop Kumar) third. The three stages tomorrow could well see the lead change hands.
Leading the FMSCI 1600 Cup is Raghunandan B (co-driven by Suraj K).
Tomorrow will see the drivers at the top of the timing sheets nurse their cars to the finish. Except in the 1600cc class where we're expecting one heck of a battle!
IRC AVT Premium South India Rally Results - Day 1
IRC Overall: 1. Samir Thapar / Gurinder Mann (JCT Rally, Evo X) (1hr, 04mins, 21.5secs); 2. Gaurav Gill / Musa Sherif (Mahindra
Adventure, XUV 500) (01:06:07.8); Abhilash PG / Kumar Ramaswamy (REA PGA Motorsport, Evo 6) (01:06:35.2).
IRC 2000cc: 1. Rahul Kanthraj / Vivek Bhatt (Team Yokohama, Cedia) (01:09:00.7); 2. Prithvi Dominic / Ravindra MS (Cedia)
(01:09:58.2); 3. Sumit Panjabi / Venu Ramesh Kumar (Cedia) (01:10:43.7).
FMSCI 1600cc: 1. Raghunandan B / Suraj K (Honda City V-Tec) (01:10:16.8); 2. Adith KC / Harish KN (Honda City V-Tec)
(01:11:28.8); 3. Aeman Khadri / Sagar M (Baleno) (01:12.41.9).
Price (Ex-Delhi)
Starts Rs 10.9 Lakhs