Interview with Alastair Moffitt, marketing and communication manager, Toyota Motorsport GmbH
The following interview appeared in the March 2015 issue of OVERDRIVE.
The exciting news from Toyota City on January 30, 2015, that Toyota Motor Corporation had given consent for a new World Rally Championship programme to be launched in 2017, was a major boost for both the promoters of the WRC and the FIA. But specifics were in short supply. As many uncertainties had been raised as had been resolved! Not until the Europe-based Toyota Motorsport GmbH (TMG) personnel were back at base in Cologne were they able to explain what they understood to be the missing details. On hand was Alastair Moffitt, TMG's marketing and communications manager to tell us some more …
You're coming back to the WRC in 2017. Will this be at World Rally Car level?
Yes but details will depend on the regulations. We anticipate competing in a Yaris WRC.
Has Toyota been given any assurances by the FIA as to what the regulations for 2017 will say?
We've been involved in the discussion process and are comfortable with how it's going. The discussions have been reasonably clear in terms of direction. We have heard there will be no major changes, no significant or radical change. The important thing to say is that we've not been going into meetings making demands or requirements. The decision was made to enter world rallying as it is and the championship as it is. We have an idea of where it's going in the future, the same as the other manufacturers, and we are comfortable with that.
Has the FIA intimated any change in the strict introductory procedures about championship registration, which are a prerequisite for WRC homologation?
As far as I know there's not been any discussion. From our side, we haven't asked for any special conditions or changes to the existing formalities. We want to come into this as a reasonable, responsible party, not demanding changes left, right and centre.
The plan is that the world championship team should run out of Europe?
Yes absolutely, we're running out of Cologne, from the same building that used to run the TTE (Toyota Team Europe) team. The building is now much bigger but it's the same site that currently runs the world endurance team. The Formula 1 team was also run from here.
What is the time frame for setting up the team structure? Do you already have a chief of the team?
Ultimately the chief of the team is the company's president Yoshiaki Kinoshita. He is the team principal of the WEC team. We can say that our technical director is Pascal Vassilon, he's got full technical responsibility. On an operational level, the project manager is Emanuele Battisti, who is an engineer as well. You can also consider him chief engineer of the project. Battisti is the project leader. His responsibility is to do the sums on the project, to make sure the engineering and the work is carried out on the engineering side. He is responsible for delivering the project and he reports to the technical director. On the operations side, we have a tests coordinator/team manager, a position taken by Jack de Keijzer, from Motorsport Italia. It's the same sort of structure that we have in the WEC team.
When it comes to extra staff, what sort of positions are to be filled?
Predominantly it's the mechanics who all have to service the cars back at base in Cologne and then deal with them on site. You obviously need more people than a race team because you need people here as well. It's a pretty intense calendar. We'll also be looking for some engineering support as well. Small additional things like logistics support and at some point, we'll be looking for PR and marketing support, but mainly looking at the operations level. The last year of testing was spent with Motorsport Italia doing the testing and the expectation is to migrate that into Cologne so that we're providing the staff for that.
It seems you feel you've already got most of the top positions you require filled?
Certainly, at the moment but we'll see what happens as the project develops. We've already got the people responsible in engine, in chassis, in overall areas. We think we've got a structure that is working. It's part of the Toyota philosophy anyway to try to involve the people and develop the people you have rather than to buy people in from elsewhere.
Is the World Rally Car project the only planned competition activity or will there be other WRC projects coming along in the meantime?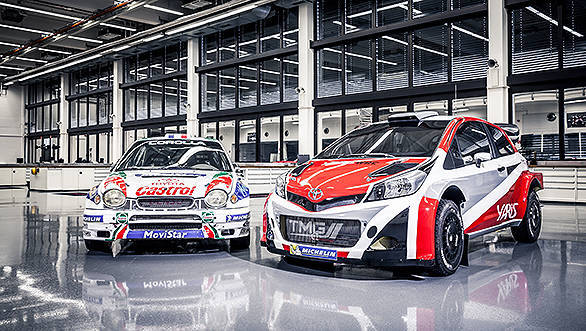 We've got the rear-drive R3 car (the CS-R3 GT86 car) which will start to be delivered to customers in May. The R3 car will have its own championship in Germany within the German rally championship. We hope the car will take off in other countries as well but we won't be funding that ourselves. We have to rely on the national distributors to be involved in any national championships. There may be one or two entries with a GT86 in international rallies to prove the car is competitive, even to give someone like our test driver Eric Camilli or any future Junior driver an experience, that's a possibility. I won't second guess what the future holds but that's all we've got on the table at the moment rally-wise. We've got a lot of other projects on the go to keep us busy anyway, so we don't need too many extra projects!
WRC related rally competition is planned between now and when the WRC projects start off in 2017?
Nothing, just testing, WRC testing. We do not plan to engage in any actual competition before we get to world championship level. We have only recently had the go-ahead for the WRC project so it's too early to say we're looking at anything else.
In addition to the uncertainty about the World Rally Car technical regulations for 2017, there's uncertainty about the events in 2017...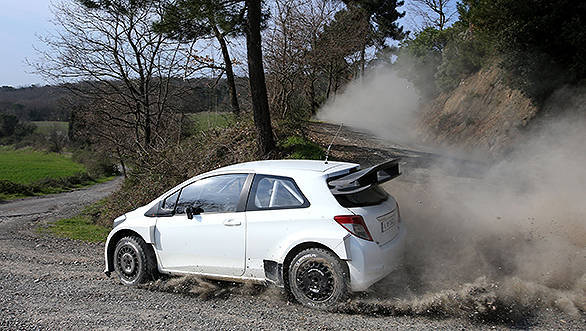 We have not been involved in discussion (about the suitability) of the calendar. I honestly suspect that's something that's going to come later. The WRC project that we were working on here at TMG focussed on which events might happen. I suspect any detailed discussions about the calendar are still to happen.
What have you been told about central Toyota/TMC policy for returning to the WRC?
At the moment I haven't been told anything so I can't answer that one. I heard TMC president Akio Toyoda say in the presentation that the project was to raise awareness and interest in Yaris/Vitz model. I think there's two things. There's also clearly a passion within Toyota for rallying and it's an itch they need to scratch and Yaris is one of our most popular cars. So it's trying to add something to that, do what our main rivals are doing and try and sell the road car through motorsport by developing a sporting feeling and, by giving a more sporty feel to the product.
Is the world championship programme likely to lead to new special sporting versions of the Yaris?
Not currently planned. We're coming from a pure motorsport background on this one. That's something that could come. It's something that would make for a logical next step but it's not for us at TMG to decide upon, that's for Toyota Europe to deal with. Maybe they'll do it, we will have to wait and see.