Interview: Skoda India's Ashutosh Dixit speaks about the upcoming Kodiaq
We recently had a chat with Ashutosh Dixit, director - sales, service and marketing, Skoda Auto India. Here's what he has to say about the new Octavia, upcoming Kodiaq and aftersales.
Where is Skoda headed from here?
Our position is to fill the gap between the mainstream brand and the so-called luxury brands, and we continue to bring products in that category. We have cars starting from Rs 10 lakh going up to Rs 32 lakh today and with Kodiaq we would go further up. So that is the space which we want to dominate clearly. Also the segments that we are present in, we want to be in the top three, which we do it now with Superb, Octavia and we are quite close to doing it with the Rapid. That is really our short-term and medium-term target.
Octavia changes a lot of things for you guys. You said it's in the top three sellers but it's a small segment. What are the chances for the Octavia to help expand the brand and its recognition?
Octavia is the heart of the brand and globally if you see, it's almost 40 per cent of Skoda's volume, so it is a very very important car even in India. It has a very good history. As you said rightly, I think currently the segment size is small, however we are also optimistic about expanding our volume with expansion in the range. Our new strategy is to bring our middle variant that would be equipped enough to take on the competition and our top variant will continue to provide that exclusive high-end feature set at a very accessible price. So that way I think we are optimistic that we will expand volume even in India even in that size of the segment.
The Octavia is currently CKD in the market. So is there any plan for manufacturing the car in India or the numbers don't support that?
The localisation is a continuous activity and we have to continuously explore what can be feasible financially to do this. Our volume is not enough to have a very high level of localisation.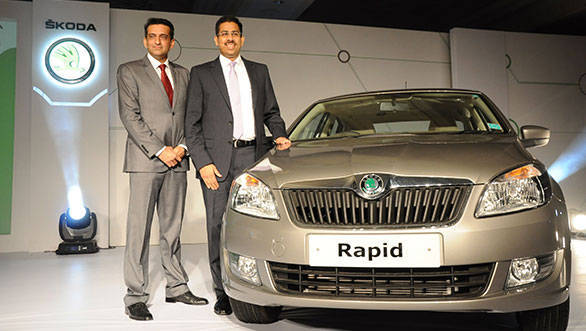 Is there a plan to enter the small hatchback segment?
For short and medium term, we do not have a plan to enter. I think in long term, everything is open and everything is possible and that continues to remain our stand.
Where will the Kodiaq be positioned?
Kodiaq will be very uniquely placed. In terms of the size it's a 7-seater. In terms of the equipment level it will go up against the luxury competitors and in terms of the pricing, it will be positioned like a Skoda - accessible and value for money. I think in combination it will create a very strong place for itself within the SUV sector. The way I see it obviously that there are not too many alternatives for a customer who is looking at a 7-seater SUV but with the refinement and VFM together, the Kodiaq will fit perfectly and will mimic the global success.
Kodiaq's direct competitors?
I think we expect customers who are in urban areas and who are currently buying Ford Endeavours or Toyota Fortuners because there is no other 7-seater here. They would prefer Kodiaq which is more refined from both styling and equipment point of view. Also those buying lower trims of luxury cars
will look at the Kodiaq because it has much more equipment and will be at an accessible price.
Will the Kodiaq also be assembled in India or come in as a CBU? Will it lure customers away from brands like Mercedes, Audi and BMW?
It will be assembled here. I think there is clearly a potential with Kodiaq to attract a lot of volumes from the luxury brands. It doesn't mean that those brands will not grow so they are clearly with the progress in economy, per capita income and also the choices that they are making. There is clearly space for everybody. I think the uniqueness with Kodiaq is the whole positioning. It brings the 7-seater and the big SUV look with very high-end equipment at a very accessible price point.
Another big support system that you will need at that point is the network that you have got, especially aftersales service which has always (as in for last few years) been a big question mark for Skoda and its customers.
For the last few years that has been our priority number one, and we worked very intensely to create the transparency on cost of ownership. To create the transparency, we took the digital way where we made the My Skoda app, a customer interface where we created itemised billing so that you can see every cost very clearly. You will also get a full refund if there is something incorrect in your bill. So with these, I think we have gained a lot of trust with the customers. For the new customers, we have created this new service pack which is again unique in the whole industry even now. There is a four-year warranty, RSA, and maintenance package.
The most interesting part of this year is the maintenance aspect because that is normally the perception with the customer that cost of service is quite high with Skoda. We've completely broken the myth when we said that for four-year service for the Rapid will cost you Rs 29,999 and Octavia will cost you Rs 39,999 and Superb, which is really in the space of luxury cars, Rs 49,999. We have rebuilt almost 70 per cent of our dealer network now.
One of the biggest challenges that we obviously or almost everybody faces is the manpower and their input part. We do take very seriously which kind of people join in the dealer organisation. We have now started the assessment at all critical positions which directly come to us without which the person cannot be a part of the dealer organisation and then we monitor them for six months very carefully. There is some kind of an online valuation for that person to check if he still fits or not and then also we have certification and all etc.
When is the next-generation Rapid expected?
We have just launched a refreshed Rapid and the normal life cycle is about three to four years. So the new car can be expected in around that time.
Will you be able to price the vRS right?
I think we will do our best. I think we did it with Superb, we did it pretty much with the new Rapid in spite of some substantial changes.
Price (Ex-Delhi)
Starts Rs 34.99 Lakhs
Price (Ex-Delhi)
Starts Rs 32.75 Lakhs
Price (Ex-Delhi)
Starts Rs 29.98 Lakhs