Interview: Sirish Vissa on Volkswagen's Polo R2 being piloted by Mike Young at the APRC India Rally of Chikmagalur
Volkswagen Motorsport India's R2 will be put through its paces by APRC driver Mike Young at the season finale of the Asia Pacific Rally Championship - the India Rally at Chikmagalur that will be held between November 24 and 26, 2017. Volkswagen Motorsport India will be on hand as always, to provide their customer teams with service back up and spares. We caught up with the head of VW Motorsport India, Sirish Vissa ahead of event.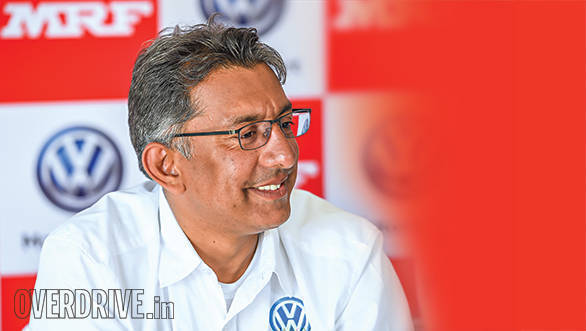 Sirish Vissa head of Volkswagen Motorsport India
On Mike Young piloting the VW Polo R2 at the India Rally:
The APRC Rally of Chikmagalur is a good testing ground for our Polo R2, which is one of the reasons we're running the car here. Mike Young will be run by the Bangalore-based GT tuners, while we'll be there with factory support and spares. Young is an up and coming talent, and he's just competed in and won the 2WD class of Rally Australia in a Citroen DS3 R3. So we thought it would be a good idea for us to have the back-to-back feedback so we get a clear idea where our car stands.
On Volkswagen Motorsport India's current involvement in rallying:
We continue to run our programme in the same way that we have been for the last couple of years. We have cars available for privateers, and we supply them with spares and technical support. At the moment I don't think it makes sense for us to come in with a factory team, unless there is involvement from other manufacturers. Another issue is that we don't want to discourage privateers, who might not want to participate in events if they feel that they will only get beaten because of the might of a factory team. That's not a situation we want to find ourselves in.
About the future of the Customer Sport Programme:
One of the reasons we run the Customer Sport Programme is because it's a pretty good way for us to evaluate our machines and get feedback about them. Especially an event like Chikmagalur proves to be something of a torture test for our cars, which means we can analyse this data and understand where we stand and where we can improve. However, there are plans to expand the programme to circuit racing as well. The new regulations for the Touring Car Championship are due to be published soon, with a new turbo category coming in. Which means our turbocharged Vento Cup cars can compete there, and we'll make it available to customers.
About the other Polos competing at the Chikmagalur Rally:
GT Tuners is running Sri Lankan driver Shafraz Junaid and Akhry Ameer as well, in the APRC, in addition to Mike Young. We're also running Vikram Rao Aroor in the INRC 3/Group N category.
On the possibility of Volkswagen Motorsport India reconsidering their decision to not compete as a manufacturer in the INRC:
We need to think about it, but it depends on the other manufacturers who might come into the championship. Like I said earlier, we don't want to only compete against privateers. So, now at Chikmagalur we've got Toyota coming in with their Etios Liva and their crew from Japan. And we've heard that Maruti might enter the INRC next year with a Baleno R2. So depending on how things stand in the future, we might reconsider our position. We've also heard that next year there will be the FIA-spec R2s that will compete in the APRC, and it will be interesting for us to run our cars against them. It will force us to push ourselves and improve by leaps and bounds, which serves as excellent R&D for us at VW Motorsport India.
Price (Ex-Delhi)
Starts Rs 6.17 Lakhs