Interview: Sirish Vissa on the 2018 Ameo Cup and Volkswagen Motosport India's plans
We recently managed to catch up with Sirish Vissa, head of Volkswagen Motorsport India, on the sidelines of the first round of the 2018 Volkswagen Ameo Cup. We spoke to him about the championship, the drivers, and what Volkswagen Motorsport India's plans are for the future.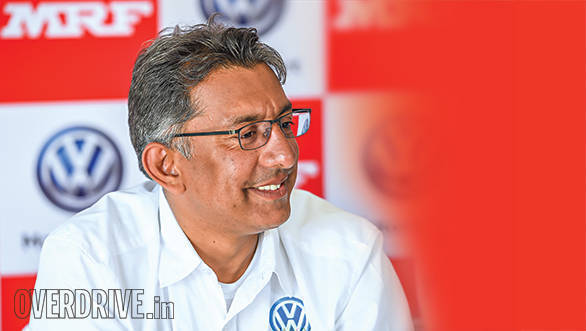 OVERDRIVE: Let's start with how the drivers are this season - are they more competitive?
Sirish Vissa: Yes, for sure. Because in qualifying we were having a 4s split across 18 cars, especially considering that 12 of them have never raced before. Out of the 12, only 2 have some kind of racing experience. It's a testament to the effort that the team puts in terms of driver training and driver preparation to see that we've taken these novice drivers and turned them into relatively competitive racers. I'm very happy with how close the grid is considering that they probably have got a total of maybe a couple of hours of time in the car so far.
OD: Do you think the drivers' preparation is in such that they can sustain this performance throughout the season?
SV: I believe so. The guys who have raced with us before, we know where they are, what they are going to do. But the 12 new drivers who have come in, we are quite happy with the seriousness of the approach that they have taken. They are very enthusiastic about trying to find improvements. That's something we haven't seen before - not to this extent. This year, right from the beginning we've had 1,600 inquiries to be a part of the championship. That turned into 18 that were selected. Out of those 18, 12 continued on and we had like six guys come back from last year. So when we look at the rest of the sport, it is testament to the efforts that we have been doing as an organisation to promote motorsport.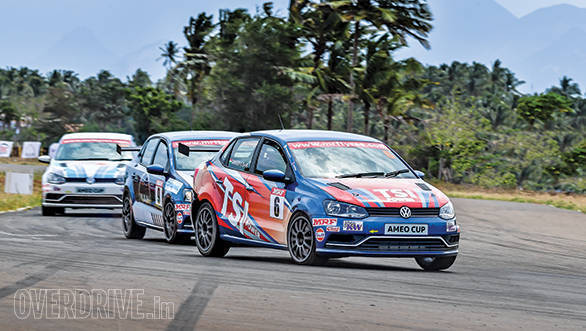 OD: How does the Ameo Cup car perform at Kari Motor Speedway? Is there anything that you do to make it work better here?
SV: See for us being a Cup series, the focus is always on building a car that is neutral and can go to any of the tracks. We are not optimising the car per se for any track. In that way, it is always a compromised setup. Considering that fact, when we are looking at a Cup car with this generic setup that is doing a lap time similar to the top touring car championship in the country. It sort of says that we need to relook at the sport overall and see where we are going to go in the future.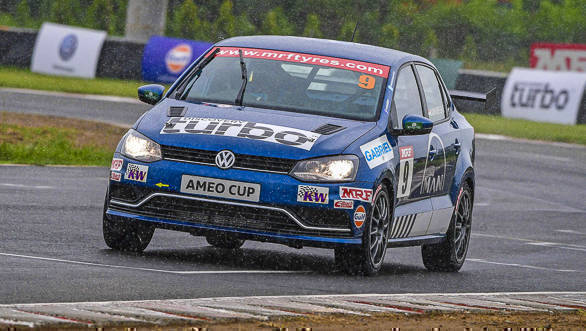 OD: What type of testing did you do on the car before this season?
SV: Honestly with the Ameo we did some minor development and it was only some changes in terms of the damping. Mechanically the car is exactly the same as we ran it last year. The media race in February and the endurance simulations later helped with this.
OD: Given that this is a single-make series, what do you do to ensure that all the cars are exactly alike?
SV: Look. everything has a tolerance to it. What we try to do is minimise the tolerances. That is the heart of the thing. Because the engine is a completely stock engine off the assembly line and our production tolerances are extremely tight. The engines are all within maybe one/one and a half horsepower of each other. The second thing is that the rest of the car as well, we go through in terms of setup, in terms of weight, in terms of alignment settings. They are all exactly the same. In addition to that, the dampers that we use are also set up to be exactly the same.
OD: Given that VW Motorsport has a strong presence internationally, has there been any tech transfer from your international programmes to this?
SV: Well there is always some tech transfer. Other than the IDR Pikes peak car setting records this weekend, Volkswagen Motorsport Germany has the TCR car which they are developing. They also have the R5 Polo. Some of the things we have done with the Ameo Cup car is better than what they already have with the TCR car. So in a way, yes, there is knowledge transfer, there is tech transfer, it goes both ways.
OD: Moving on, what is your goal as VW Motorsport with the Ameo Cup in general?
SV: Look, the Ameo Cup for us is for developing drivers, about building this culture of motorsport and at the same time to showcase how good the driving dynamics are of Volkswagen cars. That way we have achieved what we are trying to do and we are continuing to achieve it in terms of developing new talent. In terms of where we are going in the future, I think the one-make championship has its place. But ultimately we want to be in a place competing with other manufacturers like we do in rallying. We are waiting for...for example Toyota has put their toe in to test the waters. Hopefully they are going to do more. Then that makes it more interesting, more challenging, for us to do something more on the rally side. In the racing side, we are working on new things always. The TC4 Vento, which we are testing at the moment and we are running over here is one of the first steps towards that.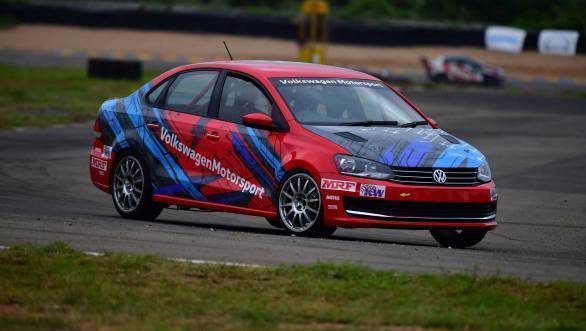 OD: These TC4 Ventos you speak of, they will be for privateers right? Will you be providing them support for this?
SV: The idea is that we are trying to strengthen the whole ecosystem of motorsport. The tuners have a need, we have a need for tuners, We have to strengthen their hands. What we want to try and do is, we build the car, we do all the technical developments on the car. The customer can buy the car and go to whoever he or she wants to, to be able to run the car. We always have our engineers there at any race weekend to make sure that if they have any issues, we are there to support them in terms of spare parts or technical know-how. So then it becomes easier for anybody to go and run the car and build something out of it.
OD: Are you looking to expand this Ameo Cup internationally?
SV: It doesn't make sense for us to go international because the Ameo is an India-specific product. But in terms of Cup series' we are always open to doing more. I mean we have exchange programmes with South Africa and with Polo Cup China. In terms of our Cup series going international, yes, we would like to, but exactly where and when we are always working to try and find the optimal sort of opportunity.
OD: You just spoke of the ID R Pikes Peak. Do you have any such plans of going the electric way in the future?
SV: For sure. That is always in our horizon but there are two things to it. First thing is, we need to make sure that we are able to support whatever cars we produce. If you look at where motorsport is in general, today in India, we are very much at an amateur level at the moment, compared to where it is internationally. When you start going electric, the challenges are a lot higher, and the safety challenges are even more. When you start talking about an electric car, you have to take so many additional precautions. Not only as a car manufacturer or the team running it, but you need the infrastructure in terms of marshals, the towing capability, different types of extinguishers to be able to put out fires. It's a huge thing that I don't believe we are ready to invest in yet in India as a motorsport type thing. It will come, we are ready to do it whenever it comes. So maybe whether its five years or ten years. But whenever it is, we are ready to go there.
OD: Will you look to outsource/look at local partners for this, if you find someone up to your standards?
SV: If you look at what we have done with the Ameo Cup car, the car was entirely built here in India. All the fabricated parts, some of the castings, and things that we have got in the car were all done in and around Pune. So we have local suppliers, who are capable of doing products that more than meet our standards. In terms of what and where and how, that depends on the individual product or car that we are working on. It is difficult to make a generalised comment but we are working. Even as VW, we have huge, huge commitments towards making components locally. So that is something that is continuously happening and always becoming bigger and bigger.
OD: Recently we got this news of Skoda leading the way for the India operations of the VW group. Will that affect you in any way? Will you work more closely with that company?
SV: Look it is something that we have a lot of discussions happening in terms of how we are going to do and what we are going to do in the future. But for sure, its a good thing, because now we have a clear direction from the board in Germany in terms of what we want to do in India. The targets that we have as a group for India are quite aggressive, This is one of the pillars to build our platform, build our brand. We will be looking at doing more. Maybe then we can convince Skoda guys to come in and do a lot more in motorsport. We are working on it, we've had some discussions. It's too much at a preliminary level to make any concrete comments on it.
See the full video interview here:
Price (Ex-Delhi)
Starts Rs 5.96 Lakhs