Interview: Shahan Ali Mohsin on switching from karting to single-seaters, and his future in motorsport
Shahan Ali Mohsin has spent the greater portion of his 15 years of age at racetracks. The Indian racer has competed in karting in India, Asia and Europe, even winning the 2016 Asian Karting Championship's Micro Max category. Earlier this year, after having won the Senior Max category of the National Karting Championship, Shahan was invited to compete in the Rotax Grand Final in Sarno, Italy. With 72 racers competing in the Senior category, and only 36 making it to the final, the competition was very stiff. Competing for the Dan Holland team, Shahan managed to qualify 10th overall in his #317 kart, having finished sixth in his group. While contact in Heat 1 led to retirement for Shahan, he managed to finish fourth in Heat 2, and seventh in Heat 3. He only narrowly missed out on making it to the Finals, ranked 38th, two places behind the cut. It is the best performance to date by an Indian driver at the event.
We caught up with Shahan to talk to him about his beginnings in motorsport, switching to single-seaters full-time in 2020, and his future in racing. 
Shahan Ali Mohsin at the 2019 Rotax Max Grand Finals
On what sparked his interest in motorsport
I was always fascinated with engines and cars. Anything with an engine in it, actually. Instead of watching cartoons I would always watch races, motorsport, Formula 1, NASCAR, DTM. Anything related to racing. In 2011 my father took me to the Indian Grand Prix. I saw the cars and I was so into it, I said, "I want to be there and I want to drive that". Then my father did some research and we went to the Meco Motorsports Karting Academy towards the end of 2012. And in 2013 I started to race. 
On his ability to adapt to racing right away
I think I adapted to it very quickly. In my first time ever driving a go-kart I was already pretty fast. Mr. Ebrahim (Akbar Ebrahim) coached me over the years, which helped me learn racecraft. In the first year itself I was in the top five. And by the end of first year in the national championship, I already had a podium. By the second year I was already in the top three, and I was leading the championship for a brief while as well. 
At the Asian Championship in May 2016, where Shahan ultimately won the Micro Max title
On moving to karting in the Asian and European championships
In my second year of karting in India, in the middle of the year, so in July 2014, I began competing in the Asian Rotax Championship. In 2014 I did around three races there. In 2015 I did a whole season. In the second season I already managed a few podiums, and I won a race - the last race in the championship. In 2016 I won the Asian Championship's Micro Max category when it was at its peak, with a lot of competitors. In 2016 I had my first race in Europe, at the Rotax Grand Festival. And in 2018 I returned to Europe to do the Central European Championship. I got one podium, a second-place, there. I did the Rotax Grand Festival in 2017 as well, finishing fourth that year. I did the WSK in the beginning of 2018, but I was unlucky then because I had multiple crashes and failures. 
On the injuries that were a setback at the beginning of 2018
In the beginning of 2018, I was doing a race in Italy - the Trofeo Andrea Margutti - and I had a sudden pain in my ribcage. When I came back to India an MRI showed that I had a fracture in my left rib. It was an injury I'd picked up earlier. In 2017 I had a crash in the national championship, and the fracture didn't show up in the X-Ray. It meant that I couldn't be part of the FIA Academy, where I was meant to represent India. But when I came back to racing I still managed to win the 2018 National Karting Championship's Junior Category title. This was after I had to stay out of a kart for four months, and I couldn't do any fitness or exercises or anything. It was very difficult for me at first, because I had to stay away from racing. I couldn't do anything. There was no gymming, no fitness, which was very boring for me. But in the first race after the injury, I was already on the pace. And the second race after that I won.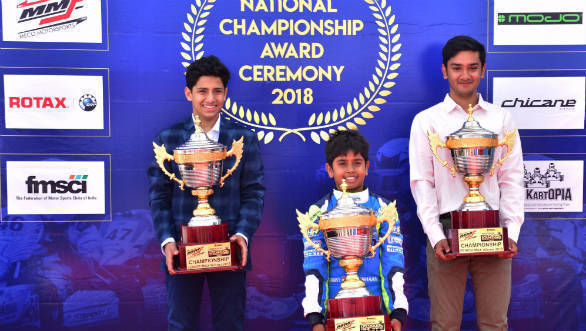 National Karting champions (L to R) - Shahan Ali Mohsin (Agra, Junior Max), Ishaan Madesh (Bengaluru, Micromax) and Debarun Banerjee (Delhi, Senior Max)
On his Senior category title in 2019
I had already done the senior category last year. I think I could have won the senior championship then, but I had two engine failures, which meant that I came third in the championship. But this year I won the Senior title. The grid was not very big, not as big as you see in Asia and Europe. But it was very competitive. The Senior category has drivers aged 15 and above. So there were drivers who were 18, 20, 24. I had to compete with drivers who had done national championships in 2010, 2011, and had a lot of experience, like Vishnu Prasad and Yash Aradhya, both former national champions who I had to fight with in the last round during a wet race. Vishnu is very experienced in the wet. I would say he gave me a run for the win!
On learning from his rivals
My first big learning came in Malaysia, where the grid was so big. I was already in the top three in India, but in Malaysia the grid was 28 to 30 drivers, and when I went there I was in the mid-field. I thought I would be at the top, but when I went there I was 16th, 17th. So I had a big fight with the karters there, and they were so aggressive. It was really hard to fight against them, but I learned a lot from them. It's very important actually to go abroad to race. In India you have good drivers, but the grid is not that big. So you don't have that many drivers to compete with. If you go to Europe or Asia it's a completely different game. In India if you're fast, you're just ahead. But if in Europe you're fast, there will still be five or six drivers behind you just pushing you and really giving you a hard time. 
A younger Shahan Ali Mohsin being hoisted into the air by father Shahroo Mohsin
On how he's moved forward over the years
My father (Shahroo Mohsin) always had a blueprint in front of me, telling me what I'd be doing next year, and after that, and then after that. He always had a plan, and he built me up from scratch. He moved me from the Indian national scene to Asia, then to Europe and then to single-seaters. He did a lot of research online. He is from a shoe-making background, and no one in the family knew about motorsport. So, he had to do a lot of research. And in racing you always need support... emotional support, and I always have my Dad with me. Whenever I was losing a race, or I had any sort of failure, he has always been there to support me. He's made me who I am from scratch. And he's always been my pillar of strength. 
On moving up to single seaters in 2019 with the MRF F1600
The single seater age in India is 15 years, I turned 15 this year. Actually it was 14 before, so I started in single seaters at 14. But now the FIA has changed the regulation to 15 years, so I hold the record for being the youngest single-seater driver in India. The transition was difficult, but I adapted to it in one or two races. You're moving from a kart of 80kg to a single-seater which is 500kg. It's a big difference. And then you have aero, suspension, etc. Plus, in karting you've got 30bhp, and in single seaters you have 140-150bhp. It was a big difference in terms of engine and power. Then there was the gearbox. It took some time, but I adapted to it. There was a lot to learn. We had Armaan Ebrahim and Aditya Patel to coach us there. Every session we had data, and we had access to the data of the fastest driver. So I could learn where he was braking, where I was braking, how much I was losing on the acceleration, on a straight line, how fast I was entering the corners. 
On his racing plans for 2020
Next year if the FMSCI approves my international licence, because the FIA changed the regulation to 16 years, and I am 15. If I get the international licence next year, I can do Italian F4 or German F4, which are the most recognised F4 categories. If I can't do that, I'd like to do some testing, so that I get the pace for the 2021 season of F4. It depends a lot on sponsorship, since the costs are high. After 2019 I won't be competing in karts any longer. I'll only be doing some testing to keep up my form. I have a shifter KZ kart that my dad imported from Italy this year, which is pretty fun to drive. I will do the MRF single seaters too, and if JK can bring the Formula BMW (Euro JK/X1) single seaters again, I'd like to do that. And possibly some F4 testing and European F4 races.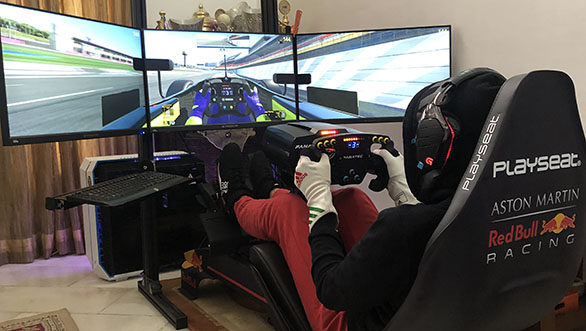 Shahan training on his racing simulator at home in Agra
On his regular motorsport training/routine
Unfortunately the place that I live, Agra, and North India in general, doesn't have any motorsport facility. So if I have to practice, I need to go to Bangalore or Hyderabad. So it's a four hour drive from Agra to Delhi, then a two or three hour flight. But when I am in the house I do two hours of gymming, for fitness. And I do some simulator training. Usually I do one hour a day, but sometimes, like when I have exams, I have to skip it. The simulator gives you almost the same feeling as being in the car. And there are some online races as well, and some drivers too, so you can still be in touch with racing without being in the car. I use a Playseat - the F1 Red Bull Playseat, plus a Fanatic steering wheel and pedals, and I have a three-screen monitor. And I normally race on iRacing.
On his long term motorsport goals
My goal is to be in Formula 1, to be in a good team in Formula 1, and hopefully win. But I have to be practical. It's really difficult to be in F1 - only 20 drivers from all over the world make it. It's a very difficult task, but I have to keep my eyes open for Formula E, DTM, or NASCAR opportunities. But of course, the goal is to be in Formula 1. If I can perform well in Formula 4, then I can move to Formula 3. And there are academies like the Ferrari Academy, the Red Bull Academy, etc. And if they pick you up, you have a good chance to make it to Formula 1. So of course, F3, then F2, and the next step is F1. 
On who he follows and supports in motorsport
I follow every race - F1, F2, F3 - and I follow every driver. I like Fernando Alonso, who was the dream driver for me from the beginning. Since he retired from F1, I still think he's the best driver. He can get the best out of a car in any condition. In the junior categories, I follow everyone. There are some good talented drivers in F2 and F3. Last year they were good - Lando Norris and George Russell, for example.